How 2019 Miss'd America winner Adriana Trenta plans to use her title to advance LGBTQ equality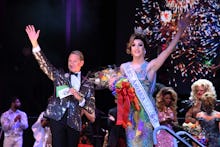 ATLANTIC CITY, N.J. — It's just like Miss America... only with drag queens.
On Saturday evening at the Borgata Hotel Casino & Spa, reigning Miss'd America queen Pattaya Hart ceded her crown to the newly named winner Adriana Trenta.
"I focused on making sure I saw none of the other contestants or their material for the show, to prevent me from overanalyzing and worrying if what I did was enough," Trenta said in an interview. "However because of that, the only thoughts running through my head were, 'You didn't place, it's not your year,' and 'There must have been something to improve upon that you didn't think of.' When Carson called my name I was floored. I will never forget looking up to see him and the rest of the room on their feet."
The Carson Kressley-hosted pageant was first started in 1991 by John Schultz and Gary Hill, who were looking for creative ways to fundraise for LGBTQ organizations in the Atlantic City area.
According to Richard Helfant, president of the Greater Atlantic City GLBT Alliance, to date, not including the proceeds from this year's pageant, Miss'd America has donated more than $375,000 to organizations including the South Jersey AIDS Alliance and Broadway Cares/Equity Fights AIDS.
"I want to focus my efforts into building stronger intergenerational bonds within our LGBTQIA community," Trenta said. "I remember being fearful of being thrown out for being gay until I was 20, and being fearful of being disowned over being a drag performer, and I want to do everything in my power to make sure another queer youth never has to feel that fear of their livelihood being over, simply for choosing to live as who they are, ever again."