Can Tom MacArthur, the Republican author of a failed Obamacare repeal bill, survive the midterms?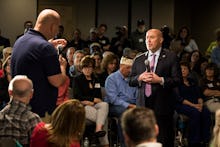 In the summer of 2017, when the Republican effort to repeal the Affordable Care Act looked like it was headed for defeat in the House, Rep. Tom MacArthur (R-N.J.) swooped in to craft an amendment designed to make both the far-right and more moderate wings of the House Republican conference feel comfortable enough to pass the bill.
The ACA repeal effort of course famously failed in the Senate after the late Sen. John McCain, recently diagnosed with terminal brain cancer, voted against it. Now, memories of MacArthur's shepherding of the legislation through the House, and his showy celebration of the bill's passage in the White House Rose Garden in May 2017, could severely imperil his re-election chances in his southern New Jersey House seat.
MacArthur's Democratic opponent, Andy Kim, as well as a host of Democratic super PACs and outside groups, are ensuring that voters in the swingy district, which runs from the Philadelphia suburbs to the Jersey Shore, don't forget MacArthur's role in the 2017's bitter health care fight.
A new ad released on Tuesday features Ady Barkan, a man who has ALS and has vowed to spend his final years fighting for better health care.
"Four months after my wife gave birth, I was diagnosed with ALS," Barkan says in the ad. "I was shocked when Congress passed the tax bill that would take away my health care to fund tax cuts for billionaires." The spot also features footage from a town hall in May 2017 in which angry constituents yelled at MacArthur for his repeal efforts. "Tom MacArthur betrayed my family and yours," Barkan says. "On Nov. 6, let's send him home."
The anti-MacArthur ad, which makes no mention of Kim, is a joint effort by two super PACs. It's just one of many health-care-related ads that are running in MacArthur's district, which he first won in 2014.
MacArthur's seat is one of the handful of districts that flipped from backing former president Barack Obama in 2012 to backing President Donald Trump in 2016. Trump carried New Jersey's 3rd District by 6 points in 2016.
But the health care attacks are resonating with voters in the district. Polls show MacArthur now trailing Kim, his Democratic opponent who worked as an official on Obama's National Security Council.
A New York Times/Siena College poll released on Sept. 26 found MacArthur trailing Kim, 39% to 49%, with 12% undecided. And an internal poll released Sept. 14 by the Democratic Congressional Campaign Committee found MacArthur trailing Kim, 45% to 47%.
Republicans are trying to counter the health care ads by painting Kim as an "entitled politician," and the New Jersey Republican State Committee is under fire for a racist mailer that uses a font seemingly meant to evoke Kim's Korean heritage.
But those attacks don't seem to be working. Inside Elections, a nonpartisan political handicapping organization, rates New Jersey's 3rd District as a "tilts Democratic" contest.