Mic Daily: Kavanaugh's accuser Christine Blasey Ford speaks out — and other news of the day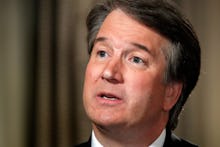 Welcome to Mic Daily: Mic's newsletter that cuts through the noise and lands in your inbox every weekday. We carefully curate each edition to send you a cross section of our most vital stories of the day.
Want more entertainment news in your inbox? Sign up for Hype Daily— Mic's morning entertainment briefing. It's got all the news you need to start your day.
Palo Alto University professor Christine Blasey Ford, who came forward with accusations of sexual assault against Supreme Court nominee Brett Kavanaugh, said in a letter on Monday to Senate Judiciary Committee chair Chuck Grassley that she felt "agony yet urgency" to tell her story.
We're in the midst of what feels to many like a renewed era of Hollywood activism — or, perhaps, uncharted territory for the industry as the Time's Up and #MeToo movements have forced Hollywood to look inward. But Jane Fonda is a veteran when it comes to "actorvism."
In a new interview with Mic, Fonda discussed her new HBO documentary, Jane Fonda in Five Acts, and her ongoing work as an activist.
On Friday, Sen. Ted Cruz (R-Texas) tweeted out a bizarre call-out of his rival, Beto O'Rourke, after the Democrat passionately condemned the recent killing of Dallas man Botham Shem Jean by a police officer in his own home.
"In Beto O'Rourke's own words," Cruz tweeted on Friday, alongside a video of O'Rourke giving a speech to an all-black congregation at a Dallas church.
Amber Guyger, the Dallas police officer who fatally shot Botham Shem Jean in his own apartment on Sept. 6, was fired Monday during an internal disciplinary hearing, the Dallas Police Department announced.
Guyger's termination comes 18 days after she shot and killed Jean, who was unarmed.
The days of little legroom and cramped seating on airplanes might soon be over, if a recently introduced bill makes its way through the House and Senate.
Congress is considering legislation that could impact air travel forever by requiring the Federal Aviation Administration to set minimum standards for seat width and legroom, the New York Times reported Saturday. The bill would also prohibit involuntary bumping of passengers who have already boarded their flights.