The world's first zero-waste trip — a wildlife safari in Yellowstone National Park — is here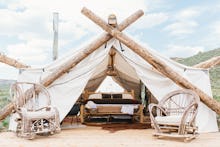 As the sea continues to fill with plastic, travel companies are moving past the concept of "leave no trace" — and starting to embrace "make no waste."
On Sept. 10, Natural Habitat Adventures announced the world's first zero-waste trip. The Colorado-based outfitter broke records in 2007 when it became the world's first 100% carbon-neutral travel company. Now, it's upping the ante with a Yellowstone wildlife safari in 2019 that will challenge 14 guests to refuse, recycle, reuse, upcycle and compost over 99% of their waste, almost completely eliminating the need to send any of it to a landfill.
The 1% of leftover trash (because, let's be real, no one is perfect) will be added to a communal mason jar and serve as a visual display of the results of the July expedition. With the world now producing over 3.5 million tons of garbage a day (10 times the amount recorded a century ago, according to World Bank researchers), a trip like this could be groundbreaking. It won't be a one-off stunt — the company hopes to roll out more zero-waste adventures and, with the help of partners like the World Wildlife Fund, inspire international tour operators to do the same.
"We're already looking at places like southern Africa," Court Whelan, Natural Habitat's director of sustainability and conservation, said in an interview. "We see this as part of the future of conservation travel. We do roughly 700 trips per year and this is one of them. Although we couldn't turn all 700 trips into zero-waste by 2019, this is an investment into understanding."
To meet its goals, Natural Habitat will supply guests with zero-waste toolkits including reusable items like coffee mugs and cutlery. Sprinter vehicles will be outfitted with composting and recycling systems including a TerraCycle, which breaks down hard-to-recycle items like granola bar wrappers. To ensure the trip is 100% carbon neutral, the company will offset the emissions from all flights, vehicles, hotels and boats used during the tour through programs such as reforestation initiatives. Guests will also have the option to offset their international or domestic pre-tour flights if they choose. The price of the trip — which starts at $5,695 — will be the same as Natural Habitat's regular Yellowstone safaris. And in turn, Whelan says he hopes the experience will inspire partner hotels, restaurants and guests to embrace zero-waste techniques.
How to have your own zero-waste trip
The Yellowstone safari might be a pricy one, but embracing a zero-waste trip on your own could actually help you save money. Just ask Bea Johnson, the California-based author of Zero Waste Home who famously fit a year's worth of trash into a pint jar. Since embarking on a zero-waste lifestyle in 2008, Johnson says her family has saved on their budget by about 40%. This is mostly due to curbing their consumption — Johnson is an advocate of refusing and reducing before recycling. The extra money saved has enabled them to travel the world, all while Johnson offsets their carbon footprint by giving talks on sustainability. For the average vacationer, Johnson suggests participating in a trash pick-up as a simple way to offset your carbon emissions. While traveling, she's noticed that airports and hotels are slowly becoming more eco-friendly by offering water bottle refilling stations, and composting and recycling bins.
"I always travel with a cloth bag — sometimes a couple — and a stainless steel container like a thermos," Johnson said in an interview. "Before I fly, I eat and then I refuse the meal on the plane because I want to create a demand for an alternative. They have Hindu meals, salt-free meals, vegetarian meals, vegan meals — they have 21 different options — but there is not one option that you can select that is a zero-waste meal. That's what I'm waiting for."
Until then, most zero-wasters advise packing your own snacks and necessities such as reusable containers, cloth napkins and eco-friendly toiletries. But changes are on the horizon: In July, the Associated Press reported that American Airlines would be replacing its plastic straws and drink stirrers with biodegradable alternatives and that Marriott International plans to eliminate plastic straws and stirrers from its 6,500 hotels and resorts worldwide by July 2019. As the movement goes global, sustainable ecolodges like the Cayuga Collection hotels in Costa Rica, Nicaragua and Panama offer a plastic-free resort experience — even going so far as to craft straws on-site out of papaya leaves at Isla Palenque, their newest eco resort in Panama. In September, the Four Seasons Hotel George V in Paris announced that it would be helping to reduce food waste through a new partnership with Parisian startup Les Alchimistes, which collects and composts organic waste from hotel restaurants.
These changes may seem small, but Kathryn Kellogg, the Bay Area-based blogger behind GoingZeroWaste.com, said they deserve recognition.
"It's important now that we, the consumer, view the small changes they are making and applaud," Kellogg said in an interview. "Say, 'Hey, that's really awesome. I love these small things. Let's go further.'"
One of Kellogg's personal rules for zero-waste living is to never check a bag — packing light reduces the overall weight of a plane and its carbon emissions. Secondly, she recommends people keep track of their waste through a "trash audit." Today, the mason jar that Kellogg filled with two year's worth of trash now sits in her home as a museum piece.
"In the beginning, I think it's really valuable because you need to know what you're throwing away," Kellogg said. "Oftentimes, we put it into a trash can and then we never think about it again."
With eco-travel becoming more relevant in 2019, going zero waste on the road is moving into the mainstream. From Yellowstone to southern Africa, a mason jar of trash could be a traveler's greenest souvenir.