"Agony yet urgency": Christine Blasey Ford explains why she came forward with Kavanaugh accusation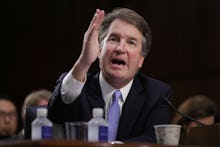 Palo Alto University professor Christine Blasey Ford, who came forward with accusations of sexual assault against Supreme Court nominee Brett Kavanaugh, said in a letter on Monday to Senate Judiciary Committee chair Chuck Grassley that she felt "agony yet urgency" to tell her story.
Ford wrote the letter to Grassley on Sept. 22, while she was still in ongoing negotiations with the Republican-led committee to testify against Kavanaugh. Grassley released the letter on Monday, along with a letter from Kavanaugh himself in which he flatly denies Ford's allegations.
In the letter, Ford explains her motive for coming forward, and the timing of her allegations — which, being just ahead of the Senate vote on Kavanaugh, Republicans including Senate Majority Leader Mitch McConnell have called into question. Ford has accused Kavanaugh of attempting to rape her when both were in high school and at a party in the early 1980s; she came forward in an article published Sept. 16.
"Mr. Kavanaugh's actions, while many years ago, were serious and have had a lasting impact on my life," Ford wrote in the letter. "I thought that knowledge of his actions could be useful for you and those in charge of choosing among the various candidates. My original intent was first and foremost to be a helpful citizen — in a confidential way that would minimize collateral damage to all families and friends involved."
Ford goes on to say that since coming forward, she has faced threats and media intrusion into her life.
"While I am frightened, please know, my fear will not hold me back from testifying and you will be provided with answers to all of your questions," Ford wrote. "I ask for fair and respectful treatment."
In a separate letter, Kavanaugh called Ford and another allegation from a Yale University classmate, "smears, pure and simple."
"I will not be intimidated into withdrawing from this process," Kavanaugh wrote.
McConnell also spoke on the Senate floor Monday afternoon to attack Democrats for bringing the accusations after Kavanaugh's hearings had already wrapped up.
"Senate Democrats and their allies are trying to destroy a man's personal and professional life on the basis of decades-old allegations," McConnell said.
McConnell also guaranteed that Kavanaugh would receive a vote on the Senate floor — even before Ford and Kavanaugh testify on Thursday.
"I want to make it perfectly clear," McConnell said. "Judge Kavanaugh will be voted on here on the Senate floor."