Today in Trump's America: Kavanaugh sits with Fox News to defend himself from sex assault allegation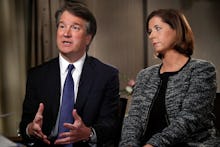 Welcome to Mic's daily read on Donald Trump's America. Want to receive this as a daily email in your inbox? Subscribe here.
Good morning from Emily Singer at Mic.
Here's what's happening in Trump's America:
• Trump will spend his day at United Nations headquarters in New York on Tuesday, beginning with an address to the UN General Assembly at 10:15 a.m.
About last night: Kavanaugh defends himself on Fox News
Brett Kavanaugh and his wife, Ashley Estes Kavanaugh, sat down with Fox News' Martha MacCallum Monday for an interview in which Kavanaugh continued to defend himself against the multiple allegations of sexual assault that threaten to derail his Supreme Court hopes.
"I had never sexually assaulted anyone, not in high school, not ever," Kavanaugh said. "I've always treated women with dignity and respect."
The Supreme Court nominee was relentlessly on message during the interview, answering different questions with the same response — he's "always treated women with dignity and respect." He repeated this eight times during the interview, according to a transcript published by the Washington Post.
The interview is certainly a preview of what the public can expect Thursday when Kavanaugh is slated to testify before the Senate Judiciary Committee.
MacCallum pressed Kavanaugh on why he thinks Christine Blasey Ford, the Palo Alto University professor who levied the attempted rape allegations against Kavanaugh, would "make this up."
"What I know is the truth. And the truth is, I've never sexually assaulted anyone in high school or otherwise," Kavanaugh replied. "I am not questioning, and have not questioned, that perhaps Dr. Ford at some point in her life was sexually assaulted by someone in some place."
Kavanaugh went on to say that he was a virgin throughout high school and "many years after" college as a means to defend himself against the allegations. However, none of the women who have accused Kavanaugh of assault have said that he ever had sex with them.
Kavanaugh also denied heavy drinking in high school — despite tales from his friend, conservative activist Mark Judge, who used a pseudonym "Bard O'Kavanaugh" in a book about the free flowing booze culture at Kavanaugh's high school Georgetown Prep.
MACCALLUM: Was there ever a time that you drank so much that you couldn't remember what happened the night before?
KAVANAUGH: No, that never happened.
MACCALLUM: You never said to anyone, "I don't remember anything about last night."
KAVANAUGH: No, that did not happen.
After Kavanaugh's interview, the New York Times published his senior yearbook page in which he references drinking and partying. It also references being a "Renate Alumni," a reference to Renate Schroeder Dolphin, a girl who attended a neighboring Catholic girls' school. Two classmates of Kavanaugh told the Times that "Renate Alumni" was the football team "boasting about their conquests."
Dolphin, who was one of the 64 women who signed a letter vouching for Kavanaugh's character, told the Times that she only learned about the yearbook "a few days ago" but said the "insinuation is horrible, hurtful and simply untrue."
"I pray their daughters are never treated this way," Dolphin said in the statement to the Times.
Today in Trump's America: GOP continues to stick by Kavanaugh in public, privately support wanes
In public, Republicans have expressed confidence that Kavanaugh will be confirmed, and have blamed the slow down on the "far-left" and the "resistance."
"Even by the far-left's standards, this shameful, shameful smear campaign has hit a new low," Senate Majority Leader Mitch McConnell said on Monday in a speech on the Senate floor.
"I want to make it perfectly clear," McConnell added. "Judge Kavanaugh will be voted on, here on the Senate floor."
Politico reports, however, that Kavanaugh "currently lacks the votes to be confirmed." Republican Sens. Jeff Flake of Arizona, Bob Corker of Tennessee, Susan Collins of Maine and Lisa Murkowski of Alaska have not yet said if they will vote for Kavanaugh. If three or more GOP senators vote against Kavanaugh, his confirmation is sunk.
And the rest...
Rod Rosenstein's future in doubt: For a few hours on Monday, the country thought the deputy attorney general was on his way to the White House to resign in anticipation of being fired by Trump. But as of now, Rosenstein remains in his job, and will meet with Trump on Thursday.
This all comes after the New York Times published a report that says Rosenstein wanted to put a wire on Trump and talked about invoking the 25th Amendment to push Trump out of power.
Rosenstein says he made the comments sarcastically. Rosenstein's future in the administration has serious implications for special counsel Robert Mueller's future. You can read about why in this explainer piece I wrote on Monday.