Hype Daily: Jesse Williams promoted his new film 'Till' with a Nike meme and more entertainment news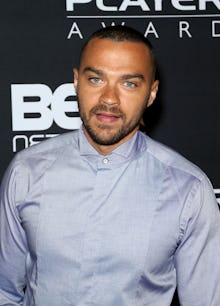 Welcome to Hype Daily, Mic's morning entertainment roundup. Here's everything you need to catch up on in the entertainment world and what to look forward to today. Want to receive this as a daily email in your inbox? Subscribe here.
Good morning Hype readers, and happy Tuesday. Yes, I know, it's only Tuesday. Let's get into the news, OK?
Jesse Williams hyped his new Emmett Till movie with a poorly thought-out Nike meme
News broke on Monday that Grey's Anatomy star and activist Jesse Williams will direct a new film about Emmett Till's death at the hands of a racist mob and his mother Mamie Mobley Till's subsequent fight for justice for her son.
But then immediately after the news of his upcoming directorial debut went public, Williams squandered any goodwill toward the film by posting a series of photos of Mamie Mobley Till with the new Nike slogan overlaid over them, effectively turning the photos into a Colin Kaepernick-inspired meme.
The slogan, "Believe in something. Even if it means sacrificing everything," over the photos of a woman mourning her slain son were cringeworthy, and the backlash was quick — it wasn't long before Williams deleted the tweets. Let's just hope he's more thoughtful with the actual film than he was with those tweets.
Celine Dion is ending her Vegas show
Chanteuse Celine Dion announced on Monday that she's ending her Las Vegas show, and the final concert will be on on June 8, 2019, Rolling Stone reported. But don't worry, if it's your dream to see Dion in her Caesars Palace residency, she has 28 final shows scheduled, and tickets go on sale on Friday.
In a statement, Dion said, "Las Vegas has become my home, and performing at the Colosseum at Caesars Palace has been a big part of my life for the past two decades. It's been an amazing experience, and I'm so grateful to all the fans who have come to see us throughout the years. Every show we do at the Colosseum throughout this fall, and right up until the final one, will feel very special." It really feels like she missed an opportunity to use a lyric from "My Heart Will Go On" there, doesn't it?
NBC's Bob Greenblatt is stepping down
After nearly eight years, NBC entertainment chairman Bob Greenblatt announced on Monday that he's stepping down from his role, Deadline reported. In a memo to staff, Greenblatt said, "It is with very mixed feelings that I have decided to leave NBC after nearly eight years. I love this network and our parent company, but since NBC is back on track and has achieved such great success I think it's time for me to turn to a new challenge."
Greenblatt saw the network through a tumultuous time, and has been credited with turning NBC around and making it a leader among the major broadcast networks again. He hasn't announced his plans for a new gig, but it seems likely that he'll have plenty of options to choose from.
Zoë Kravitz is going to star in a gender-swapped TV show version of High Fidelity
Zoë Kravitz will star in an upcoming TV series based on the film High Fidelity, Variety reported Monday. The new series will air on Disney's streaming service, which is set to launch in 2019. Kravitz will play the lead in a "gender-swapped" adaptation of the story, which is very cool especially considering that her mother, Lisa Bonet, starred in the 2000 film, which featured John Cusack as a record shop owner reflecting on his love life. How will they stretch the plot out into a whole TV series? Disney magic.
Put this on your radar: Jane Fonda in Five Acts
The new HBO documentary Jane Fonda in Five Acts premiered last night, and is now available to stream. The documentary follows the legendary actor and activist through her tumultuous childhood, her early stardom, her radical activism and her three high-profile marriages. Watch a trailer for the documentary here and read my interview with Fonda here.