Why is everyone hating on Michael Kors?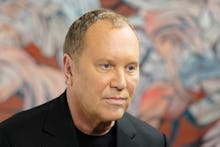 Early Tuesday morning, after rampant speculation the day before, the news was finally confirmed that Italian fashion house Versace would be acquired by Michael Kors Holdings Limited (now renamed Capri Holdings Limited).
The deal, which could make Kors' business the first luxury conglomerate in the United States, was inked for an estimated $2.12 billion. Under Capri Holdings, Versace will open about 100 stores as well as expand accessories and footwear, according to Bloomberg's Kim Bhasin.
You'd think the prospect of having the first American fashion conglomerate — on par with France's LVMH Moët Hennessy Louis Vuitton SE (owners of Céline, Dior, Louis Vuitton and more) or Switzerland's Compagnie Financière Richemont SA (owners of Azzedine Alaïa, Cartier and Chloé) — would be exciting.
However, the reaction online seemed unusually unfavorable, not by the prospect of the Versace sale but rather by who was buying it.
USA Today even ran with this headline on Tuesday morning: "Versace fans smear Michael Kors as 'the tackiest man alive' following brand's sale."
So what's with all the hate? Is it a great love of Versace that has people concerned? Or is it a true disdain for the Kors brand?
"Michael Kors contributed to the hyper-democratization of luxury," fashion commentator Pierre A. M'Pelé said in an interview. "He flooded the market with relatively inexpensive items and affordably entry-level products. Not only are his bags everywhere, but they have been highly inspired by other brands' bags. It's a sort of creative disdain people in the industry feel toward him, but they cannot express it because he's a big shot."
Kors is known to most people as a brand rather than a conglomerate, so the easy assumption is perhaps that Versace's designs will be manipulated to the Kors aesthetic — in other words, less sexy, more sporty. Booth Moore, style and fashion news for the Hollywood Reporter, said it's too early to tell how the sale will affect Versace.
"I wonder if commenters are aware of how consolidated the fashion industry is, with the LVMH conglomerate owning so many diverse brands, for example," Booth said in an interview.
It's true, LVMH owns 15 fashion brands, 13 cosmetic brands and six watch brands. According to LVMH, the brand brought in over $50 billion in revenue in 2017. Acquisitions are par for the course even for fashion's most luxurious brands. For instance, when Kors acquired Jimmy Choo in 2017, there wasn't an uproar denouncing that acquisition.
It's still a bit unclear why there's so much hoopla about the Versace-Kors acquisition. The answer perhaps has nothing at all to do with Kors and everything to do with today's culture.
"It's very easy to attack Michael Kors," M'Pelé said. "And today trolling is almost an art. We've entered an era when being mean is fun. We call it shade, but really, most of the time it's about being mean. Gratuitously."