Snapchat launches voter registration drive on its app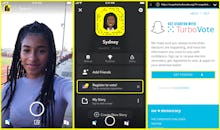 It's National Voter Registration Day, and Snapchat is allowing users to register to vote within its app.
The Snapchat app takes users to the TurboVote website, a tool created by the voter registration initiative Democracy Works. To access the link, open Snapchat and then tap your avatar in the top left. The "Register to Vote!" feature will be in between the "Add Friends" and "My Story" options.
"We're working hard at Snap to engage, inspire and register eligible voters this election season through creative, product-driven launches," Jennifer Stout, Snapchat's global head of public policy, said in an email statement. "Voting is one of the most important forms of self-expression we have, and we're committed to empowering our community to register and vote for their chosen representatives."
According to a press release from Snapchat, this is the first time the mobile social network has offered voter registration directly within the app. The company will also send a text to users who are 18 and over with a video message and link to register.
Eighty percent of Snapchat users are 18 or older while Statista notes that the majority of internet users age 18 to 34 are on the service. Voting is less popular among the same demographic. Studies show that 28% of adults 18 to 29 say they will actually vote in the midterm elections. Other studies point to many young people saying they will vote but not actually doing so.
Snapchat's new in-app voter registration option won't ensure its users make it to the polls, but it could bring many young people one step closer to casting their vote in November.