Trump blasts Iran at United Nations, promises additional sanctions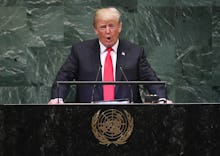 President Donald Trump ripped the Iranian government in an address to the U.N. General Assembly on Tuesday, calling on world leaders to isolate Tehran and vowing to impose further sanctions on the country.
"Iran's leaders plunder the nation's resources to enrich themselves and spread mayhem across the Middle East and beyond," Trump said in his second speech before the international body.
The remarks came after Trump tweeted Tuesday morning he had "no plans" to meet with Iranian President Hassan Rouhani — adding that he believes Rouhani is likely an "absolutely lovely man."
Trump's address was his second before the U.N. General Assembly. In a fiery speech last year, he threatened to "totally destroy" North Korea if it continued its nuclear provocations.
Tensions have eased on the Korean peninsula since, due in large part to a strong diplomatic push by South Korean President Moon Jae-in. That outreach led to a historic meeting between Trump and North Korean leader Kim Jong Un in June; at the U.N. on Tuesday, Trump said there have been "encouraging" signs toward denuclearization.
But tensions between Washington and Tehran have been high since Trump withdrew from the Iran nuclear deal in May, describing the landmark accord as being "defective at its core."
Trump and Rouhani have traded threats since, and in August, the administration reinstated sanctions against Tehran.
"These are the most biting sanctions ever imposed," Trump tweeted in August. "I am asking for WORLD PEACE, nothing less!"
Before his speech Tuesday, Trump said "Iran has acted very badly" and said it "has to change its tune" before he meets with them.
"It will happen," he told reporters as he arrived at the U.N. "I believe they have no choice."
During his speech, Trump defended his decision to leave the "horrible" Iran deal, calling it a "windfall" for the Iranian regime. "We ask all nations to isolate Iran's regime as long as its aggression continues," Trump said.
He also blasted China amid his administration's trade war with Beijing.
"Our trade imbalance is just not acceptable," Trump said of the U.S. trade relationship with China. "As my administration has demonstrated, America will always act in our national interest."