Dave Brat rose to fame by ousting Eric Cantor in 2014 — now he's fighting for his political life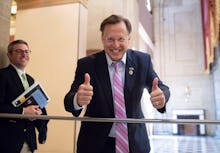 In 2014, tea party Republican Dave Brat stunned Washington when he felled then-House Majority Leader Eric Cantor in a Republican primary in Virginia's 7th Congressional District. The suburban Richmond district had sent Cantor to Congress for more than a decade, and during that time he became a star of the GOP.
Four years later, Brat is now fighting for his political life. Thanks to the growing trend of suburban voters mounting frustration with President Donald Trump, his traditionally Republican district looks poised to flip.
On Tuesday, a new poll from Monmouth University shows Brat trailing his Democratic opponent, former CIA operative Abigail Spanberger, 47% to 42%.
Monmouth University said Spanberger's lead is the result of a "sizable advantage in the Richmond suburbs" which Monmouth says "supported Hillary Clinton for president in 2016 after voting for Mitt Romney in 2012."
"This is a tale of two districts," Patrick Murray, the director of the Monmouth University poll, said in a release. "The Richmond suburbs that backed Clinton in 2016 support Spanberger, while the Trump strongholds are firmly behind Brat.  The reason this race is so close right now is because there are more voters in the suburban areas."
Brat's problems are indicative of the dilemma Republicans face in 2018: holding onto the moderate suburban GOP voters who don't like Trump's brand of politics, but avoiding angering the core Republican base voters who support the president.
Brat is also facing troubles resulting from his vote to repeal the Affordable Care Act, better known as Obamacare. During the 2017 repeal effort, when angry constituents were turning out in droves to the few town halls Republicans were holding, Brat dinged his female constituents, who were urging him not to repeal the ACA.
"Since Obamacare and these issues have come up, the women are in my grill, no matter where I go," Brat told conservative activists in January 2017.
Even worse for Brat: He's facing off with a top Democratic recruit. Spanberger, who served as a counterterrorism officer in the CIA for eight years, doesn't have a political record for Republicans to exploit. Republicans have deployed their tried-and-true tactic of tying Spanberger to House Minority Leader Nancy Pelosi — the boogeywoman Republicans have run against since 2010.
Meanwhile, a scandal began brewing in August when a super PAC for Paul Ryan also obtained Spanberger's unredacted security clearance form, and used it to tie her to terrorism, citing her teaching at Islamic Saudi Academy in Virginia. Republicans dubbed the school "terror high," because a former class valedictorian admitted to joining al-Qaeda.
Spanberger denounced the leaking of her security clearance form, and quickly hit back with an ad featuring a fellow retired CIA officer, John Sipher, who said, "Associating Abigail with terrorism is laughable."
"Abigail worked on the front lines, she chose to do the hardest work that this country asks of anybody," Sipher says in the ad. "She focused on protecting Americans from terrorism, not sniping on the sidelines.
"The CIA trusted her with top secret security clearance. For Dave Brat or anybody else to twist that and turn it against her and claim that Abigail aided terrorists is dangerous and unpatriotic."
The Monmouth poll seems to indicate that these attacks on Spanberger by her opponent and the GOP don't seem to be working.
"Tsunami alert," Dave Wasserman, a House race expert at the Cook Political Report, tweeted in response to the Monmouth poll. "Have to question whether Rs trying to convince voters Spanberger taught at 'terror high' was a smart move vs. an ex-CIA agent."
Cook Political Report rates the race between Brat and Spanberger a toss-up.