Noel Francisco could mean "big trouble" for Mueller probe if Trump fires Rosenstein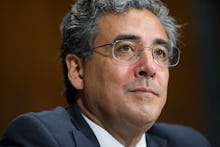 Rod Rosenstein's fate hangs in the balance — and so does the future of special counsel Robert Mueller's Russia probe.
The embattled deputy attorney general, whose job security has for months been a matter of national speculation, is to meet with President Donald Trump Thursday following revelations last week that Rosenstein may have proposed secretly recording Trump and recruiting Cabinet members to declare him unfit for office.
What will come out of the meeting is anyone's guess.
Democrats, and even some of Trump's allies, have warned the president not to fire Rosenstein. But the bombshell New York Times report last Friday may have provided him the excuse he's been looking for to terminate the man overseeing the Russia investigation — a move that could pose a significant threat to the future of the inquiry and that his critics say would amount to obstruction of justice.
"The dismissal or forced resignation of Rod Rosenstein will mean big trouble for the Mueller investigation," Rep. Lois Frankel (D-Fla.) told Mic by email. "It would not only be another act of obstruction of justice by the president, it would send a green light message to Russia and others who would interfere with our democracy."
Rosenstein has overseen the Russia investigation since early 2017, when Attorney General Jeff Sessions recused himself from the matter over his undisclosed campaign contacts with the Kremlin.
As such, he currently has broad authority over the special counsel's probe. He can, if he sees fit, fire Mueller. He oversees Mueller's use of Department of Justice resources. He can also decide what of Mueller's findings — if any — are released to the public.
Former federal prosecutor Patrick Cotter said Rosenstein has appeared to accept Mueller's recommendations. But that might not be true for the person who succeeds him if Rosenstein is fired or forced out.
"In the end, what comes of Mueller's investigation will be decided, to a great degree, by whoever sits in Rosenstein's chair," Cotter wrote in an email to Mic, adding that replacing the deputy attorney general could "dramatically alter the Mueller investigation and its consequences."
That person would likely be Noel Francisco, the solicitor general who Democrats worried during his Senate confirmation hearing in 2017 would put his loyalty to Trump over his loyalty to the country and who has previously endorsed an expansive view of executive power.
Francisco — a critic of former FBI director James Comey, who led the Russia probe until Trump fired him in May 2017 — became the heir apparent to the Russia investigation when Associate Attorney General Rachel Brand left the DOJ in February.
Brand, who had been the third-ranking Justice department official behind Rosenstein, left for a job in the private sector and has yet to be replaced.
That puts Francisco next in line to assume control of the Mueller probe if Rosenstein is ousted.
Francisco's take on executive power, support for Trump and views on the role of special counsels, have led to speculation that he could hamstring Mueller, who has already brought down a number of the president's associates, including former campaign chairman Paul Manafort and former national security adviser Michael Flynn.
In a statement to Mic, Sarah Turberville, director of the Constitution Project at the Project on Government Oversight, urged Francisco to assure lawmakers and the American public that he'll protect the Mueller probe and safeguard its independence.
"If Francisco becomes the acting attorney general for purposes of the Russia investigation, his views on executive power are far less important than his commitment to the continued independence of that investigation," Turberville said. "Any successor to Rosenstein should be brought before Congress to make specific guarantees to the special counsel's independence — including those relating to its resources and scope. And most importantly, that successor must guarantee that the special counsel will not removed."
It's not yet clear what Trump will do Thursday.
Confusion reigned Monday amid conflicting reports Rosenstein resigned or was on the cusp of being sacked.
Rosenstein is reportedly expecting to be terminated, but neither Trump nor White House press secretary Sarah Huckabee Sanders have said that's the plan. The president has even indicated he's open to keeping Rosenstein in his current position, the Wall Street Journal reported Tuesday.
But the specter of Rosenstein's firing has been looming since the Times reported Friday he proposed wearing a wire in 2017 to surreptitiously document Trump administration chaos and discussed enlisting Cabinet members to invoke the 25th Amendment to oust Trump from office.
He reportedly pitched the idea soon after Comey was fired, a move Trump justified in part by citing a letter Rosenstein had written criticizing the former FBI director's handling of the Hillary Clinton email investigation.
Rosenstein has challenged the report, calling it "inaccurate and factually incorrect."