Mic Daily: World leaders at the UN laugh at Trump — and other news of the day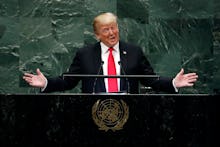 Welcome to Mic Daily: Mic's newsletter that cuts through the noise and lands in your inbox every weekday. We carefully curate each edition to send you a cross section of our most vital stories of the day.
Want more entertainment news in your inbox? Sign up for Hype Daily — Mic's morning entertainment briefing. It's got all the news you need to start your day.
President Donald Trump's boast in a speech at the United Nations General Assembly on Tuesday morning that his administration has "accomplished more than almost any administration in the history of our country" elicited laughter from the crowd, which was filled with world leaders and diplomats.
Sen. Lisa Murkowski (R-Alaska) suggested in an interview published Tuesday that she could break with her party over Brett Kavanaugh's sexual abuse allegations — a move that could sink the Supreme Court nominee.
Early Tuesday morning, after rampant speculation the day before, the news was finally confirmed that Italian fashion house Versace would be acquired by Michael Kors Holdings Limited (now renamed Capri Holdings Limited).
You'd think the prospect of having the first American fashion conglomerate would be exciting, but the reaction online seemed unusually unfavorable. Not by the prospect of the Versace sale — but rather by who was buying it.
It's National Voter Registration Day, and Snapchat is allowing users to register to vote within its app.
The Snapchat app takes users to the TurboVote website, a tool created by the voter registration initiative Democracy Works. To access the link, open Snapchat and then tap your avatar in the top left. The "Register to Vote!" feature will be in between the "Add Friends" and "My Story" options.
As the sea continues to fill with plastic, travel companies are moving past the concept of "leave no trace" — and starting to embrace "make no waste."
On Sept. 10, Natural Habitat Adventures announced the world's first zero-waste trip. The Colorado-based outfitter broke records in 2007 when it became the world's first 100% carbon-neutral travel company. Now, it's upping the ante with a Yellowstone wildlife safari in 2019 that will challenge 14 guests to refuse, recycle, reuse, upcycle and compost over 99% of their waste, almost completely eliminating the need to send any of it to a landfill.