Hype Daily: Will Smith bungee-jumped out of a helicopter and more entertainment news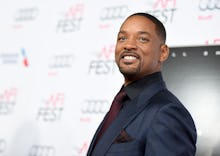 Welcome to Hype Daily, Mic's morning entertainment roundup. Here's everything you need to catch up on in the entertainment world and what to look forward to today. Want to receive this as a daily email in your inbox? Subscribe here.
Good morning everyone! Is it gray and rainy where you are? Because it's gray and rainy where I am. Let's cozy up around some toasty entertainment news.
Will Smith celebrated his birthday by jumping out of a helicopter
Now this is a story all about how, um, Will Smith jumped out of a helicopter. Smith turned 50 Tuesday, and he decided to celebrate his birthday by bungee-jumping out of a helicopter over the Grand Canyon.
The whole thing was live-streamed on his YouTube channel, Entertainment Weekly reported, and the video was hosted by Smith's Fresh Prince of Bel Air costar Alfonso Ribiero. Smith's famous family was also in attendance, obviously. Check out a video of the jump here.
The new Fantastic Beasts trailer dropped
The new trailer for the upcoming Harry Potter prequel-sequel Fantastic Beasts: The Crimes of Grindelwald dropped Tuesday, and it's got muggles like me excited about the film.
The new movie stars Eddie Redmayne as magical animal lover Newt Scamander, Jude Law as a young Albus Dumbledore and accused domestic abuser Johnny Depp as their foe, wizard Gellert Grindelwald. Zoë Kravitz also stars as Newt's ex, Leta Lestrange. Check out the new trailer here — the movie hits theaters Nov. 16.
Geoffrey Owens is donating the $25,000 Nicki Minaj gave him
Good things came rolling in for Cosby Show actor Geoffrey Owens after that photo of him bagging groceries at a New Jersey Trader Joe's went viral. He fielded multiple job offers and rapper Nicki Minaj even offered him $25,000 for some reason. But, as Entertainment Weekly reported Tuesday, it turns out Owens didn't take that money. Instead, he said he's giving it to an organization that helps former actors who are in need.
"I would like to give this donation of 25K to the Actors Fund in memory of the late, great Earle Hyman — who played Cosby's father, 'Russell', on The Cosby Show — who lived his last many years and died at the Actors Home, (funded and run by the Actors Fund)," Owens told celeb gossip outlet TMZ in a statement. He added, "I am extremely grateful to Nicki Minaj for enabling struggling actors to continue pursuing their dreams."
That donation is apparently fine with Minaj, who told TMZ, "I wish Geoffrey much success and want him to know how loved he is. Rest in Peace to Earle Hyman."
A Basquiat musical is happening
Deadline reported Tuesday a new musical based on the life of New York City-born artist Jean-Michel Basquiat is in the works. Jon Batiste, who is the bandleader and musical director for the CBS staple The Late Show with Stephen Colbert, is composing the musical and Alan D. Marks and Barbara Marks will produce the show. Basquiat, whose influential art often contained sharp social commentary, died in 1988 at the age of 27.
According to the Deadline report, the late artist's family is onboard with the new project. In a statement, Lisane Basquiat and Jeanine Basquiat, the artist's sisters, said, "Over the years, many people have approached us about telling our brother's story onstage. But having discussed this project with the Marks over many months, our interest was piqued once we understood that their approach to telling our brother's story treats his life, his art and his legacy with respect and passion. ... We cannot wait to begin the developmental process. Broadway is a new world for us, and we looking forward to sharing our brother's life and art."
Put this on your radar: Making a Murderer part two
The premiere date for the upcoming second part of the Netflix true crime series Making a Murderer was announced Tuesday. It will hit the streaming service on Friday, Oct. 19, per the Hollywood Reporter. The filmmakers will return to the subjects of the show's first season: Steven Avery, and his nephew Brendan Dassey, both convicted for the murder of Teresa Halbach.
In a statement, directors Laura Ricciardo and Moira Demos said, "Building on part one, which documented the experience of the accused, in part two, we have chronicled the experience of the convicted and imprisoned, two men each serving life sentences for crimes they maintain they did not commit. We are thrilled to be able to share this new phase of the journey with viewers."