NYFW spring/summer 2019 was the most inclusive across race, size, gender and age — ever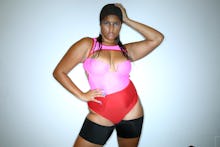 New York Fashion Week spring/summer 2019, which officially wrapped on Sept. 12, was far and away the most inclusive ever, according to new data released on Wednesday by the Fashion Spot.
"I'm optimistic about this season's results and am pleased to see more New York designers making strides toward genuine diversity than ever before," the Fashion Spot's editor-in-chief Jennifer Davidson said in an interview.
Though we've seen incremental advancements season to season, spring/summer 2019 is the greatest indication that the influx of conversations around representation in fashion is translating to the runway. This could partially be attributed to the return of four of New York Fashion Week's biggest marquee names: Opening Ceremony, Proenza Schouler, Rodarte and, perhaps most importantly, Rihanna.
So let's break it down.
Perhaps the most promising data is that there was a significant bump in the number of models of color on the runway. During last season's fall/winter 2018 runways, 37.3% of models were people of color. This season, with 2,203 model appearances, that number jumped to 44.8%. Similarly promising: Close to one-fourth of New York's shows featured over 50% models of color.
"This was by far the biggest jump we've seen in years," Davidson said.
Also worth noting: Seven of the 11 most-booked models for NYFW were nonwhite, including Adesuwa Aighewi, Selena Forrest and Yoon Young Bae.
Similarly, transgender and nonbinary representation was up from 33 models in fall/winter 2018 to 53 models this season. (A large caveat to that being that 34 of those appearances came from Marco Marco's all-trans runway show.) Additionally, 25 drag queens appeared at New York Fashion Week (bolstered largely by Opening Ceremony's large drag queen-infused runway).
There are also, according to Davidson, more models who identify as transgender or nonbinary than ever before. It's a significant factor to consider, especially when noting the stories of people like Tracey Norman Africa, a model in the '70s who was made to conceal her trans identity, and even subsequently lost jobs when her identity was exposed against her well.
Perhaps the biggest surprise of the season came around plus-size inclusion, which Mic recently reported was on the decline in fall 2018 ad campaigns. A total of 12 runways featured plus-size models, up from just eight the previous season. "That being said, there is still a lot of room for growth in this category," Davidson notes.
The number of models over 50 also experienced an uptick, rising from nine in the fall/winter shows to 12 in spring/summer. It is a large jump when you look at it as a percentage, but minuscule when considering the baseline we're working with.
The bottom line: New York Fashion Week is leading the charge in presenting opportunities for a diverse roster of models, but the significant advancements need to continue at this pace, in order to correct for past negligence.