Mormon women urge Republican senators to suspend Kavanaugh's confirmation for an FBI investigation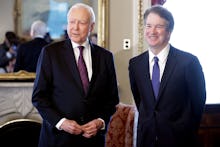 As Senate Republicans continue their push to confirm U.S. Supreme Court nominee Brett Kavanaugh in the wake of mounting sexual misconduct allegations, Mormon women are calling on Republicans to halt the confirmation process until an investigation is complete.
Mormon Women for Ethical Government, a group of 6,000 women that is not formally affiliated with the Church of Jesus Christ of Latter-day Saints, issued a statement Monday calling on the Senate Judiciary Committee to "immediately suspend [Kavanaugh's] confirmation proceedings until a thorough independent investigation can be conducted."
The group specifically reached out to four Republican members of the judiciary committee who also belong to the Church of Jesus Christ of Latter-day Saints — Sens. Orrin Hatch, Jeff Flake, Mike Lee and Mike Crapo — calling on them to "ensure that these charges be taken seriously and that every attempt be made to ascertain the truth of the situation."
"Our mutual faith teaches that any sexual abuse or assault in any context is contemptible and worthy of the most severe condemnation," the statement noted.
"If these accusations are proved false, an investigation will prevent harm to the court's legitimacy. If they are true, then Judge Kavanaugh must not be confirmed," the statement continued. "As we have stated previously, sexual assault must not be normalized or condoned in any way or by anyone, especially those charged with political leadership. We boldly condemn any attempts to justify such inexcusable and reprehensible behavior and demand that our elected leaders set a morally sound example."
In a lengthier letter posted to Medium Wednesday expanding on the call, the Mormon women's organization urged Republicans to listen to their female constituents by not "plow[ing] right through" with Kavanaugh's confirmation, as Senate Majority Leader Mitch McConnell said Republicans would do at the Values Voter Summit Friday.
"Senators, we ask you to stop that plow," the organization wrote on Medium. "Stop pushing forward despite the clear objections of Dr. Blasey Ford, Deborah Ramirez and millions of other women across the country. Women comprise half of your constituents. If you truly respect women, then demonstrate it by honoring our requests to go slowly here."
"The appalling audacity of some of your colleagues in declaring their intention to simply take this seat with or without the broad support of women everywhere is just as troubling as the allegations against Kavanaugh. In fact, the irony is chilling."
The Senate Judiciary Committee has scheduled a vote for Friday morning on Kavanaugh's nomination, even before the committee hears testimony Thursday from professor Christine Blasey Ford on allegations that Kavanaugh forced himself on her in an act of "attempted rape" in high school. Ford's allegations have since been bolstered by a second allegation that Kavanaugh exposed himself in college to then fellow Yale University student Deborah Ramirez, yet Republicans have so far ignored Democrats and the accusers' calls for an FBI investigation.
Of the senators the Mormon women's organization specifically appealed to in their statement, only Flake is currently considered to be a swing vote on Kavanaugh's nomination. Hatch has been particularly outspoken in favor of Kavanaugh amid the allegations; the senator told reporters after Ford's account was published that if the allegations are true, "it'd be hard for senators to not consider who the judge is today," and later described Ramirez's allegation as "phony."