"They don't want me or us to win": Trump warns China against meddling in midterm elections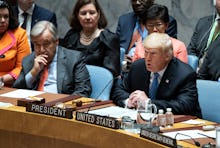 President Donald Trump on Wednesday called out China for allegedly attempting to interfere in United States elections, which he's been reluctant to do in response to Russia's confirmed meddling.
"China has been attempting to interfere in our upcoming 2018 election — coming up in November — against my administration," Trump said during a meeting of the United Nations Security Council Wednesday morning. "They do not want me or us to win because I'm the first president to ever challenge China on trade, and we are winning on trade. We are winning at every level.
"We don't want them to meddle or interfere in our upcoming election," Trump added.
The comments came amid the Trump administration's trade war against Beijing and were a forceful rebuke of what he said was an attempt by China to meddle in the Nov. 6 midterm elections.
Trump did not, however, similarly call out Russia. U.S. intelligence says Russia continues its attempts to interfere in American elections, as it did in 2016.
The president has repeatedly cast doubt on that conclusion — most notably, perhaps, during his infamous summit with Russian President Vladimir Putin in Helsinki in July, where he appeared to accept the strongman's denials over his own intelligence agencies' assessments.
"My people came to me, [Director of Nat'l Intelligence] Dan Coats came to me, some others, they said they think it's Russia," Trump said at a joint press conference with the Russian leader in July. "I have President Putin. He just said it's not Russia. I will say this, I don't see any reason why it would be."
Trump has also relentlessly railed against the FBI's Russia investigation, which he describes as a "witch hunt" seeking to undermine his presidency.
What's more, Trump's Republican allies have also shot down measures to strengthen election security.
Trump's criticism of China came a day after he defended his trade war against the country during a fiery address to the U.N. General Assembly Tuesday.
"Our trade imbalance is just not acceptable," Trump said of the U.S. trade relationship with China. "As my administration has demonstrated, America will always act in our national interest."