Third woman comes forward with allegations against Brett Kavanaugh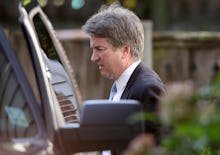 A third woman has come forward to accuse Supreme Court nominee Brett Kavanaugh of drinking in excess and acting inappropriately with women when he was in high school.
The woman, Julie Swetnick, released a sworn declaration that says she attended "well over 10 house parties" with Kavanaugh and his friend, Mark Judge, and "witnessed Mark Judge and Brett Kavanaugh drink excessively and engage in highly inappropriate conduct, including being over aggressive with girls and not taking 'no' for an answer. This conduct included the fondling and grabbing of girls without their consent."
Swetnick, who released her sworn statement through high-profile lawyer Michael Avenatti, says she currently holds an active security clearance and works "within the federal government."
She said Kavanaugh's "recent claim on Fox News regarding his alleged 'innocence' during his high school years and lack of sexual activity" is "absolutely false and a lie."
"I witnessed Brett Kavanaugh consistently engage in excessive drinking and inappropriate contact of a sexual nature with women during the 1980s," Swetnick wrote in her statement.
Swetnick's allegations come a day before the first woman to come forward and accuse Kavanaugh of sexual assault, Palo Alto University professor Christine Blasey Ford, is set to testify before the Senate Judiciary Committee.
Kavanaugh denies her allegations.
"This is ridiculous and from the Twilight Zone," Kavanaugh said in a written statement. "I don't know who this is and this never happened."
Judiciary Committee Republicans say they are currently reviewing Swetnick's allegations.
"This morning Michael Avenatti provided a declaration to the Judiciary Committee. Committee lawyers are in the process of reviewing it now," a spokesperson for Senate Judiciary Chairman Chuck Grassley said in a statement, according to Bloomberg's Sahil Kapur.
Sept. 26, 2018 12:34 p.m.: This article has been updated.