Anita Hill on Christine Blasey Ford, Kavanaugh hearing: "It's hard for me to imagine it can be fair"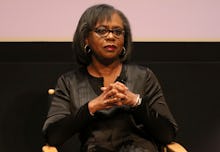 Christine Blasey Ford, who has accused Supreme Court nominee Brett Kavanaugh of attempted rape, will testify before the Senate Judiciary Committee on Thursday. Kavanaugh will also speak during the hearing.
In the days since coming forward, Ford's lawyers have negotiated with the Senate over the conditions of Ford's appearance. Initially, Ford wanted the FBI to investigate the allegations before she testified. Her representatives have also expressed that her security was a top priority, amid threats she received. By Sunday, Ford's attorneys confirmed that she would testify this week, however there will be no investigation into the allegations to add further context to her claims.
Anita Hill, who testified in 1991 that Supreme Court Justice Clarence Thomas had sexually harassed her, said going forth with the hearing without an investigation and other witnesses will take away from the credibility of the proceedings.
"It's hard for me to imagine it can be fair," Anita Hill said in an interview with the Associated Press Tuesday.
During a hearing about Hill's allegations against Thomas, she was intensely grilled by senators who accused her of lying. In response, 1,600 black women protested Hill's mistreatment by taking out an ad in the New York Times and seven other newspapers, with a proclamation called "African-American Women in Defense of Themselves."
"The reason I think it's not going to be fair is that it doesn't give you all the information," she also explained to AP. "And I believe it is designed to pit his word against hers, and we know that (he) has all of the power of the presidency behind him. And she doesn't."
Trump has stood by his Supreme Court pick maintaining Kavanaugh's innocence and questioning why Ford didn't report her alleged assault to authorities when it happened around 1982.
As of Wednesday afternoon, additional witnesses will not be allowed to testify at the hearing. A second sexual misconduct allegation against Kavanaugh came from Deborah Ramirez, a former Yale University schoolmate of Kavanaugh's, who said he shoved his penis in her face during a party in the 1980s.
On Wednesday, a third woman Julie Swetnick said in a statement that she witnessed Kavanaugh and his friend Mark Judge "engage in excessive drinking and inappropriate contact of a sexual nature with women during the 1980s." Swetnick also stated Kavanaugh, Judge and other men allegedly spiked the punch at house parties with "drugs and/or grain alcohol" to inebriate women.
Hill added that the mostly male make-up of the Senate judiciary committee will affect the way Ford's hearing is handled on Thursday. Back in 1991, Hill faced an all-white all-male panel. Ford will be questioned by a panel that includes four women senators, who are all Democrats. There are no women Republican senators on the Committee.
"There are women on the committee, and that's new, but the overwhelming vision of the Senate judiciary committee is still largely white and male," Hill said. "We know that even a few women can change the conversation, so we have to keep pushing to make sure that representation is truly representative."