"Please don't come to Africa and build a school": What I learned from a relief mission in Chad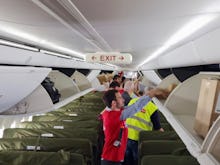 Before going on a relief mission with the United Nations Children's Fund as an auxiliary member, you're furnished with few preparatory documents, including a behavioral cheat sheet outlining specific guidelines like what to wear and how to greet someone. The last bullet point — "Do not eat food or drink water in front of the children" — haunted me during the days leading up to the trip.
I was bound for Chad, a landlocked country in central Africa that, along with its neighbors, is host to some of the planet's most dramatic examples of abject poverty, extreme hunger and affronts to human rights. When I met Stéphane Arnaud in Copenhagen at UNICEF's supply and logistics headquarters, he called the situation in Chad a "protracted crisis." Arnaud works at the largest humanitarian warehouse facility worldwide as a senior emergency supply manager, responsible for the hyper-quick release of aid and strategic stockpiling of support materials in anticipation of various crises, be it a hurricane in Puerto Rico, an outbreak of cholera in Yemen or the persecution of peoples in Myanmar.
In Central Africa, where the sands of the Sahara meet the green-pocked savanna enrobing Lake Chad, 4.4 million people — more than half of them children — face an ongoing threat to their survival caused by a daisy chain of factors: hunger, disease, climate change, government corruption, economic decay and terrorism.
Camilla Viken, the executive director of UNICEF Norway, said that the confluence of these dire factors has put Chad on the top 10 list of destinations harboring the most urgent situations of need; "the area has the worst poverty and food insecurity in the world," she said in an interview.
My flight with Viken — on a makeshift cargo plane fashioned from Norwegian Air's new 737 MAX commercial carrier — hauled almost 30,000 pounds of medical, sanitary and educational aid. Norwegian, one of the largest corporate supporters of UNICEF Norway, organizes an annual "fill a plane" relief flight to a destination in need; I was invited along on this trip as a reporter and volunteer. A skeleton crew of Norwegian captains and flight attendants was there as well, helming the seven-hour charter from Scandinavia down to N'Djamena, Chad's capital, with cargo filling every nook and cranny on the plane — even the passenger seats.
In Chad, the heaviness of the late-afternoon desert heat hits you as soon as the plane door opens. Under the glow of massive floodlights, and surrounded by a dozen armed Chadian soldiers, our small squad of observers and Norwegian crew members offloaded 5,000 school bags, 2,000 water purifiers, 1,000 doses of antibiotics and 35,000 packs of rehydration salts — among hundreds of other boxes — well into the night.
Buttoned up to the jaw to avoid the malarious sting of the swarming mosquitoes, and soaked through with sweat, we were led from the airport to a conference room at our hotel for a safety and mental health briefing before being released to bed. The organizers established emergency strategies and gave us notes about Idriss Deby, the leader of Chad since the 1990s who has been accused of making constitutional changes to bolster his power. They also provided details regarding the possible threat of the extremist, anti-education group Boko Haram, which is responsible for a significant influx of regional refugees. To manage these threats, no photos in public places or out of car windows were allowed; any real-time social media posts could compromise the security of our team and mission.
And then came the conversation I had been wondering about since receiving my briefing materials — how to handle our upcoming supply drop to Hôpital de la Mère et de l'Enfant, a state-run facility treating children under the age of five battling severe cases of malnutrition. Viken led the briefing, emphasizing the importance of striving for composure in front of the patients and their families — but also being in touch with one's own emotions so as to not incite a future episode of mental trauma.
The next day we entered the public clinic much in the same way a child does when they're admitted to the facility — through the weighing room where the practitioners evaluate their case and condition, and then into the ward: one large room with 31 beds and a space on the floor for overflow. Charity commercials asking for donations don't prepare you for the real-life struggle with malnutrition — soft unwavering cries, weakened by hunger, waft through the air. You can't un-hear it.
Our water purification materials and antibiotics, while plentiful, barely make a dent in the 350,000 cases of severe acute malnutrition — one of the leading causes of child mortality — this year in Chad. And as we made our way around the room from bed to bed, led by resident doctors Anatole and Nathan, it became abundantly clear that a lack of education played just as much of a factor in sealing the fate of these children as their limited access to food. Some young parents had simply never learned how to properly care for their offspring; others employed tribal practices — like burning their stomachs with branding irons — to curb chronic diarrhea and other signs of illness.
Often, when a child arrives at the door of the hospital, Anatole, Nathan and their colleagues dip into their own coffers to save the infant's life. The bureaucratic processes to apply for government assistance can take too long when the situation is dire — every hour is precious. The hospital has a 83% survival rate among children able to complete their full course of medical care, and according to Anatole, the percentage is on the rise thanks to UNICEF. The foundation pays the salaries of around a dozen physicians at the clinic while the majority of the hospital's staff strike against their government's corruption and unpaid wages.
What you can do to help
"Please don't come to Africa and build a school," Viken, who is eager to start a broader conversation about the troubles of so-called voluntourism, said. Among the 13 tons of aid we delivered to Chad were school supplies for nearly 2,300 children, packaged to withstand a 30-foot drop should the materials need to reach areas impenetrable by roads. "Sure, you can take a photo of yourself in front the school building you made, but it's the least important thing about getting a child an education. You can have an excellent school without the building, and a terrible school with a structure," she added, citing the fact that her drop-anywhere educational boxes come with portable classroom materials like chalkboards and sustain a child's instruction for almost a full year.
The most important factor when enabling an education? "Context," Viken said. "You need to be engaging in a destination long term, embedded in the community so you know what you're talking about. You need to you know how to talk to the locals and their government to make sure that parents allow their children to come to school — especially young girls, that the learning environment is safe and that they are properly nourished." According to Viken, the most damaging part of volunteering with youth is dropping in on an educational environment for a short amount of time — "teachers need to be properly trained; short-stay assistance can be severely damaging to a child's sociability. Having to bond to adult after adult creates trauma," she said, adding that one can begin to unlearn how to love, trust and connect with other people.
Viken's solution to traveling better is a simple return to organic tourism. Choose a destination you want to explore, and experience everything the destination has to offer — try restaurants, stay in personalized hotels and shop for locally made souvenirs that catch your eye. Your purchasing power strengthens a developing middle class, provides new entrepreneurial opportunities which leads to more jobs, and enables women and young families. The only merit to voluntourism Viken acknowledges is the opportunity to build awareness. "Reflecting on the challenges of a destination and its people in need could affect the way you live your life or the choices you make when donating money," she said.
And making a charitable donation is, according to Viken, the best way to help a desperate situation like the one in Chad. "You would honestly provide a lot more relief if, instead of volunteering, you earned money — like day trading — to donate to professionals like UNICEF." The children I visited in the state hospital, for example, were, as Anatole explained, receiving life-saving care for as little as the equivalent to $36.
UNICEF is transparent about their allocation of funds and each national office has a different breakdown associated with its administrative costs. Viken works with the following arithmetic: "Thematic" contributions earmarked for Chad garner a built-in administrative fee of 5%. Gifts assigned to a specific, or "nonthematic" cause, like nutrition or education, have an 8% internal processing charge. Viken says an untagged donation (of which 1% goes towards administrative costs) are funneled to the most salient and urgent situations around the globe. For every dollar donated in the United States, UNICEF levies 9 cents for fundraising costs, 3 cents for admin, and 88 cents goes directly toward helping children.