Pete Davidson and Ariana Grande really love talking about their sex life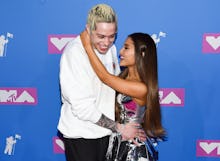 Celebrity couple Pete Davidson and Ariana Grande (who, if you remember, got engaged after just a few weeks of dating) love sharing about their sex life, if you haven't noticed. They seem pretty happy to let us in on a lot of, um, details.
In a new Monday morning interview with Howard Stern, who always seems to get people to share the details that no one really asked for, Davidson said he totally understands why other people have crushes on his fiancee. "I get it. I was jerking off to her before I met her," he told Stern. "I've been there. I've been in the other shoes. Who knew I was practicing this whole time [for our relationship]?"
He also basically said that he feels grateful whenever they have sex: "Any time we're intimate, I'm always apologizing and saying, 'Thank you. You're awesome for doing this, thank you so much.'"
And Davidson also told Stern that in order to last longer during sex with Grande, he thinks about his father, a firefighter who died on 9/11. "I was just thinking of my dad being burned alive," he said. That's... a lot for us to know.
This isn't the only time in their relatively short but very public relationship that Davidson has spoken about the couple's sex life. During an appearance at Auburn University in August, he told the crowd that being engaged to Grande is "fucking lit. I'm a very, very lucky boy, and I'm very, very loved and I'm very lucky. ... And my dick's forever hard," which is actually kind of sweet.
Don't think that the oversharing isn't reciprocal, though — back in June, Grande seemed to have posted a tweet that Davidson has a 10-inch penis. (The tweet, if she said it in the first place, appeared to have been deleted.) Her apparent comment basically led to a weeks-long discussion of "big dick energy," and who does and does not possess it.
In the Monday interview, Stern actually asked Davidson about whether or not Grande was telling the truth about his BD. Davidson, to his credit, humbly demurred. "I think I have an average-sized penis and she's tiny," he told Stern. "Everything's big to her."