What's the current state of Bill Cosby's finances?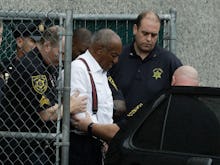 On the bright blue cover of their March 25, 1985, issue, People magazine lined up the faces of the biggest stars of the 1980s, including Prince, Tina Turner, Dolly Parton and Billy Cosby, and asked "Are they worth it?" Inside was a breakdown of celebrity finances.
"Bill Cosby is getting $1.1 million a year for his show, but with him, that's just a start," read the report. Indeed, the salary from The Cosby Show was only one item in his momentous career — a career that has ended in utter shame.
In April, Cosby was found guilty on three counts of aggravated indecent assault related to his attack on Andrea Constand in 2004. Over 60 women have accused Cosby of sexual misconduct in recent years and on Tuesday, he was sentenced to three to 10 years in prison for his crimes. With the extra attention around the entertainer at the moment, and with a net worth that Money estimates once hit a high of nearly half a billion dollars, let's take a look at Cosby's finances and how he amassed such a huge number.
The beginning of Bill Cosby's career
Bill Cosby started his comedy career on the stand-up circuit and with many comedy albums released in the 1960s, which led quickly to national fame on the TV show I Spy and his own program, The Bill Cosby Show. More than two hundred episodes of The Electric Company in the early 1970s, coupled with his long-running cartoon character Fat Albert, made Cosby a household name. Then, came the endorsements.
Cosby's advertisements with Jell-O began in 1974, and they were such a smash that by 1978, he was named Ad Age's Star Presenter of the Year. In 1981, Jell-O's parent company launched Pudding Pops, which Cosby would go on to sell with much success. His relationship with Jell-O lasted decades, and Cosby was inducted into the Advertising Hall of Fame in 2011; at the same ceremony, he was the very first recipient of the American Advertising Federation's President's Award for special lifetime contributions to advertising.
Cosby's team told Black Enterprise magazine in 1981 that he already held $3 million in TV and advertising contracts, and said it represented a fifth of his eight-figure income. Jell-O was hardly his only endorsement deal: Starting in 1982, he was paid $1 million a year to advertise Texas Instruments' home computers, which was followed by an estimated $10 million contract with Kodak. Additional endorsements rolled in for Coca-Cola, an investment firm and even the United States census.
The Cosby Show
All of that monstrous success occurred before he even reached his peak, signified by landmark sitcom The Cosby Show. The show debuted in September 20, 1984, and aired for eight seasons. For five of them, it was the top television show in the country. During this heyday, estimates of his personal wealth vary; in that People cover story in 1985, reporters suggested he was making $1.1 million a year for the show, but by September 1987, Forbes estimated that he made $84 million in 1986 and 1987. They named him the highest-paid entertainer in the world.
In 1988, a total of 172 local stations paid $500 million to syndicate the show five days a week, at $4 million per episode. The gigantic sale tripled the previous record for syndication rights, and as a producer Cosby received $166 million. Forbes estimated that Cosby Show reruns have made $1.5 billion in the last 20 years.
And while Cosby's greatest successes came in the 1980s, he was hardly retired before the allegations of routine sexual assault began in earnest around 2014. The Cosby Show reruns were still airing on BET and TV Land (they were dropped in 2014), a Netflix special was taped and scheduled to air in November 2014, his tour was selling $10.8 million in tickets and yet another sitcom was in development at NBC, with Cosby as both producer and star.
The lawsuits
All of that came to an end when the rumors began to flare back up. Not only did the above revenue streams dry up, but lawsuits began to pile up and overlap; for example, 10 women are suing Cosby for defamation after he denied their sexual-assault accusations. On the first day of his retrial for sexual assault this year, lawyers revealed that Cosby had paid accuser Andrea Constand $3.38 million in a 2006 settlement; fees to the reported two dozen lawyers he's hired in recent years are unknown but must be hefty.
Page Six reported in October that Cosby was seeking a $30 million loan out against his New York City townhouse to pay off his lawyers. He bought the home in 1987 for $6.2 million. In a convoluted financial journey, he also sought to have his insurance policies with American International Group cover legal fees; his lawyers argued that the AIG policies on his homes in Massachusetts and California covered a range of circumstances including lawsuits like his defamation cases. Cosby actually won that case in 2016, and AIG was forced to cover legal fees for his three defamation suits.
Additionally, in 2017 the state of California filed a tax lien against Cosby and his wife in the amount of $1,831,150.41 over unpaid taxes from 2015. Whether the unpaid taxes were a mistake or they were unable to pay wasn't clear.
What's next
It's unclear how many assets Cosby is left with after years of legal battles. He has placed three of his properties in Los Angeles up for sale in recent years; two were listed at $5.7 and $20 million, while a third was sold in 2015 for $11.8 million. That left him with an estate in Massachusetts (the plot of land alone is estimated at $2.7 million), a house near Philadelphia and the New York City townhouse. Civil suits such as the defamation cases are ongoing and could result in further damages paid to plaintiffs. Cosby waits out the results from behind bars.