2018 Midterms: The 5 races 'Mic' is watching closely — and why you should follow them, too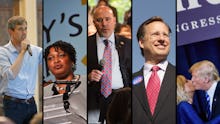 Here we go.
The tension has been building since the day President Donald Trump was elected. Now, here we are, weeks from knowing whether the Democrats will retake control of Congress from the Republican Party. Can Trump effectively be stopped in his tracks? Is the #Resistance working? Is the perceived Trump backlash real? Will Trump's angry base rise again? What of polling in 2018?
The tension has further been heightened amid Brett Kavanaugh's Supreme Court nomination, possible upheaval in the Justice Department and every closely watched move in special counsel Robert Mueller's Russia probe.
Beginning Jan. 20, 2017, the firehose of news out of the Trump administration — from the wild and unprecedented policies to the seemingly constant hirings and firings and, of course, the daily combustible missives from the president himself — hasn't just changed how we think of politics, but has reshaped American norms and made us question our values. For nearly two years we've been seeing some truly shocking moments: white nationalists openly marching in the streets; parents seeking better lives for their children having them taken away and put in cages at the U.S.-Mexico border; and a blanket ban on entry from citizens of multiple majority-Muslim nations, to name a few.
Now, we watch and we wait. In just 40 days, we'll see whether predictions of a Democratic wave come true — or if we're headed deeper down Trump's rabbit hole.
As we head into the final stretch of the 2018 election cycle, Mic's Navigating Trump's America team has identified a handful of races we feel speak to the current state of play in U.S. politics. From a progressive surge in Texas to Trump-style talk in upstate New York to the year of the woman (2.0), we're planning to go deep into the day-to-day developments of these tight and crucial races. Here's a quick look at what we're following and why these races are crucial to understanding the American electorate in 2018.
The battle for a Texas Senate seat
Beto O'Rourke vs. Ted Cruz
Is the yearslong Democrat dream of turning the Lone Star State blue becoming a possibility? Rep. Beto O'Rourke (D-Texas) has been riding a progressive wave to nip at the heels of incumbent Sen. Ted Cruz, a tea party star who rose to prominence in the 2012 election. So far, the race is a dead heat. Sure, O'Rourke has become an avatar for progressive excitement, but can his approach actually unseat Cruz? And is the GOP's "Trumpification" actually leading traditional Republicans in a state like Texas to abandon the party completely?
Year of the woman (again)?
Stacey Abrams vs. Brian Kemp
It's been clear for months that 2018 has some deep parallels to 1992, when outrage over Anita Hill's 1991 testimony against then-Supreme Court nominee Clarence Thomas before an all-male Senate Judiciary Committee sparked women voters into action to elect more women to Congress. Will the second "year of the woman" have a new twist, propelling women of color like progressive lawyer Stacey Abrams into Georgia governor's mansion? Mic's coverage will look at whether health care and abortion rights are playing a role in her battle against Brian Kemp, Georgia's conservative Republican secretary of state.
Revenge of the suburbs
David Brat vs. Abigail Spanberger
Virginia's 7th Congressional District is suburban and deeply Republican. Republican David Brat took down GOP establishment figure Eric Cantor in 2014, in what is considered one of the biggest upsets in congressional history.
Brat is being challenged in 2018 by former undercover CIA operative Abigail Spanberger, who alleged in late August that a super PAC associated with House Speaker Paul Ryan (R-Wis.) had released her federal security clearance application for political purposes.
In these Richmond suburbs, it's white-collar, Cantor-supporting Republicans — many of whom may be appalled by the chaos surrounding the Trump administration — who could be the swing voters to hand the seat to Spanberger. According to recent polling, she now has a narrow lead in the race.
Does Trump-style rhetoric work?
Claudia Tenney vs. Anthony Brindisi
Rep. Claudia Tenney (R-N.Y.) made headlines in February when she said, "It's interesting that so many of these people that commit the mass murders end up being Democrats. But the media doesn't talk about that." Her comments came in the wake of the mass shooting at Marjory Stoneman Douglas High School in Parkland, Florida. Trump, meanwhile, has been fundraising for her.
Can a woman invoke such Trump-style rhetoric and still win? Is being too Trump-y going to backfire in a district where Trump clobbered Hillary Clinton in 2016? The race for New York's 22nd Congressional District — in which Tenney will face off against Democratic nominee Anthony Brindisi, a member of the New York State Assembly — is currently rated a toss-up.
Sunk by the Affordable Care Act?
Tom MacArthur vs. Andy Kim
In New Jersey's 3rd Congressional District, which runs from the Philadelphia suburbs to the Jersey shore, Tom MacArthur — who paved the way for the repeal of the Affordable Care Act via a bill he drafted that passed in the House but failed in the Senate — is locked in a close race with Democrat Andy Kim.
Kim, who worked in former President Barack Obama's White House, has made health care reform a central piece of his platform.
In addition to looking closely at these definitive races, Mic will also consider the election's larger themes, profile emerging political stars and, of course, analyze the major breaking news out of other races.
Curious? Follow our 2018 Midterms collection to receive updates directly in your inbox, subscribe to our daily Navigating Trump's America newsletter — and look for a few fun surprises from Mic ahead of election day.