Mic Daily: What to expect from Thursday's hearing with Brett Kavanaugh and Christine Blasey Ford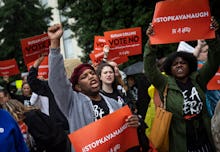 Welcome to Mic Daily: Mic's newsletter that cuts through the noise and lands in your inbox every weekday. We carefully curate each edition to send you a cross section of our most vital stories of the day.
Want more entertainment news in your inbox? Sign up for Hype Daily — Mic's morning entertainment briefing. It's got all the news you need to start your day.
2018 has been a particularly deadly year for Florida's transgender community. Five killings of trans women of color have been reported as of late September. The high number of deaths has unsettled activists, especially in the city of Jacksonville, where three of the five homicides took place.
Both Supreme Court nominee Brett Kavanaugh and Palo Alto University professor Christine Blasey Ford — who accused Kavanaugh of sexual assault when both were in high school in the early 1980s — are set to testify before the Senate Judiciary Committee on Thursday.
Though Republicans are giving Ford a venue to hear her allegations, they're already plowing ahead with Kavanaugh's confirmation, scheduling votes for Friday and advising members not to leave Washington for the weekend in order to set up a full Senate vote on Kavanaugh's nomination.
Christine Blasey Ford, who has accused Supreme Court nominee Brett Kavanaugh of attempted rape, will testify before the Senate Judiciary Committee on Thursday. Kavanaugh will also speak during the hearing.
Anita Hill, who testified in 1991 that Supreme Court Justice Clarence Thomas had sexually harassed her, said going forth with the hearing without an investigation and other witnesses will take away from the credibility of the proceedings.
New York Fashion Week spring/summer 2019, which officially wrapped on Sept. 12, was far and away the most inclusive ever, according to new data released on Wednesday by the Fashion Spot.
"I'm optimistic about this season's results and am pleased to see more New York designers making strides toward genuine diversity than ever before," the Fashion Spot's editor-in-chief Jennifer Davidson said in an interview.
Supplements, shampoo and gold face masks promising to "boost" collagen levels have become the latest trend to take over Instagram. And a number of celebrities — like Adam Rippon and Kourtney Kardashian — swear by its supposed health properties, dousing their morning smoothies with collagen powder or smearing collagen-infused cream over their faces. It's even shown up in cauliflower-based wraps and been infused into martinis by Gwyneth Paltrow.
So, are these things the real deal? The answer, as you might expect, is complicated.