Trump on world leaders laughing at him: "They weren't laughing at me. They were laughing with me."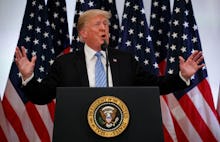 President Donald Trump on Wednesday denied that world leaders laughed at a portion of his United Nations speech the day before, telling reporters in a freewheeling press conference that the crowd was laughing "with" him — not "at" him.
"People had a good time with me. We were doing it together," Trump said at the Wednesday afternoon press conference in New York. "We had a good time."
Trump had been asked about a moment during his U.N. General Assembly speech Tuesday, during which the crowd of international leaders burst into laughter as he bragged about his administration's accomplishments.
"In less than two years, my administration has accomplished more than almost any administration in the history of our country," Trump said in the speech Tuesday.
The crowd broke into audible laughter at the familiar brag from the exaggeration-prone president.
"Didn't expect that reaction, but that's OK," he said in response, appearing flustered.
On Wednesday, Trump claimed that reports the crowd laughed at him were "fake news."
"I heard a little rustle, and I said, 'It's true,' and I heard smiles," Trump said Wednesday. "They weren't laughing at me. They were laughing with me."
"We had fun," he added.
The revisionist claim was made during a wild news conference that lasted well over an hour. He spoke on a wide range of issues, including his upcoming meeting with Rod Rosenstein and Thursday's hearing on Supreme Court nominee Brett Kavanaugh's sexual assault allegations.
Trump said Wednesday that he would prefer not to fire the deputy attorney general, and suggested that he may delay Thursday's meeting with him because of the Kavanaugh hearing.
Things got testy during a series of questions on Kavanaugh, who has been accused by three women of sexual misconduct. One of Kavanaugh's accusers will testify before the Senate Judiciary Committee on Thursday.
Trump said that while he is interested in hearing from the accuser, Christine Blasey Ford, he believes Kavanaugh is "wonderful" and suggested the allegations are "fake." He also called it a "big fat con job" perpetrated by Democrats, some of whom he implied were "very evil."
Trump was asked multiple times during the presser if the allegations multiple women have leveled against him personally have impacted the way he defends Kavanaugh and other men who have been accused of sexual misconduct, to which he replied: "Absolutely."
"I've had numerous accusations about me," Trump said.
"They want fame, they want money, they want whatever," he added of his accusers. "So when I see it, I view it differently." 
Trump later claimed he supports a number of men accused of sexual assault, including former Fox News host Bill O'Reilly, because he "never saw them do anything wrong."
The president also spoke about international affairs, including his relationship with North Korean dictator Kim Jong Un. He claimed that his administration has made more progress toward denuclearization than the media and public know, and bragged about the letters he's received from his North Korean counterpart.
"He wrote me two of the most beautiful letters," Trump said of Kim. "It's a beautiful piece of art."
Indeed, he spent much of the hour and change of his press conference patting himself on the back over a range of matters and accusing his political opponents and the "fake news" media of attempting to undermine him — including, he said, by acknowledging that world leaders appeared to laugh at him during his speech Tuesday.
"They respect what I've done," Trump said Wednesday. "The United States is respected again."