Today in Trump's America: All eyes on Senate for Christine Blasey Ford, Brett Kavanaugh's testimony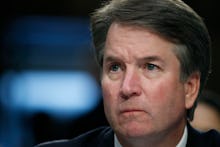 Welcome to Mic's daily read on Donald Trump's America. Want to receive this as a daily email in your inbox? Subscribe here.
Good morning from Emily Singer at Mic.
Here's what's happening in Trump's America:
• All eyes are on the Senate Judiciary Committee, where Palo Alto University professor Christine Blasey Ford and Supreme Court nominee Brett Kavanaugh will testify. The hearings begin at 10 a.m., starting with Ford and her accusations of sexual assault against Kavanaugh. You can watch the hearings here.
Today's question: Do you think Thursday's hearing will have an impact on the outcome of Kavanaugh's nomination?
Send me your thoughts to TrumpsAmerica@mic.com. I'll include some of your responses in Tuesday's newsletter.
About last night: Trump goes off the rails in rare news conference
Trump held a rare news conference Wednesday night in New York that almost immediately veered off the rails, as he defended himself after being laughed at by world leaders at the U.N. General Assembly as well as took the side of his Supreme Court nominee who has been hit with sexual assault allegations.
It's hard to pick just one of the truly wild moments from the more than hour-long news conference, but here are some highlights:
On whether Kavanaugh's accusers are "liars":
"I won't get into that game. I'll only tell you this: This is one of the highest quality people that I've ever met, and everybody that knows him says the same thing. And these are all false — to me, these are false accusations in certain cases. And certain cases, even the media agrees with that."
Trump was asked why he always seems to side with the accused, including Alabama Senate candidate Roy Moore. Trump lied, saying he didn't support Moore's bid:
"Well, first of all, I wasn't happy with Roy Moore. Let's get that straight. But Roy Moore was a Republican candidate."
Trump invoked George Washington to defend Kavanaugh:
"Look, if we brought George Washington here and we said, 'We have George Washington,' the Democrats would vote against him, just so you understand. And he [Washington] may have had a bad past, who knows, you know.  (Laughter.)  He may have had some, I think, accusations made. Didn't he have a couple of things in his past? George Washington would be voted against 100% by [Senate Minority Leader Chuck] Schumer and the con artists. I mean 100%. One hundred percent."
Trump said women who accused him of sexual assault wanted "fame" and "money," and that impacted his opinion on other men like Kavanaugh getting accused of sexual assault:
"Well, it does impact my opinion. You know why? Because I've had a lot of false charges made against me. I'm a very famous person, unfortunately. I've been a famous person for a long time. But I've had a lot of false charges made against me — really false charges. I know friends that have had false charges. People want fame. They want money. They want whatever. So when I see it, I view it differently than somebody sitting home watching television, where they say, Oh, Judge Kavanaugh…' this or that. It's happened to me many times. I've had many false charges; I had a woman sitting in an airplane and I attacked her while people were coming onto the plane. And I have a number-one bestseller out? I mean it was total phony story. There are many of them. 
On his evidence-free (so far) claim that China is meddling in the 2018 election:
"We have evidence. We have evidence. It'll come out. Yeah, I can't tell you now, but it came — it didn't come out of nowhere, that I can tell you."
On whether he'll fire Rosenstein:
"I would certainly prefer not doing that. There was no collusion. There was no obstruction — I mean, unless you call obstruction the fact that I fight back. I do fight back. I really fight back. I mean, if you call that obstruction, that's fine. But there's no obstruction. There's no collusion. I'm going to meet with him tomorrow. I may call Rod tonight or tomorrow and ask for a little bit of a delay to the meeting, because I don't want to do anything that gets in the way of this very important Supreme Court pick. So I don't want it competing and hurting the decision — one way or the other decision. Again, I want to hear what she has to say."
Today in Trump's America: Ford and Kavanaugh to testify
Kavanaugh's confirmation hopes rest on a hearing Thursday morning with the first woman to come forward to accuse him of sexual assault.
Christine Blasey Ford will testify first. Her opening statement has already been released, which shows she plans to tell the Senate Judiciary Committee, "I am here today not because I want to be. I am terrified. I am here because I believe it is my civic duty to tell you what happened to me while Brett Kavanaugh and I were in high school."
In the statement, she'll walk through the details of the assault and her reasons why she didn't immediately report it.
"Mr. Kavanaugh's actions have damaged my life, so that you can take that into serious consideration as you make your decision about how to proceed," Ford will say. "It is not my responsibility to determine whether Mr. Kavanaugh deserves to sit on the Supreme Court. My responsibility is to tell the truth."
Kavanaugh also released his opening statement, in which he denies Ford's allegations, as well as allegations from other women.
"Over the past few days, other false and uncorroborated accusations have been aired. There has been a frenzy to come up with something — anything, no matter how far-fetched or odious — that will block a vote on my nomination," Kavanaugh will say. "These are last-minute smears, pure and simple."
The hearing begins at 10 a.m. I wrote a rundown yesterday of what to expect that you can read here.
And the rest...
Susan Collins watch: Sen. Susan Collins (R-Maine) — a key vote to determine whether Kavanaugh will become a Supreme Court justice — is privately raising concerns over the allegations, according to CNN.