The emotional and financial costs of wedding dress shopping as a plus-size bride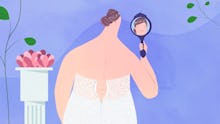 "If you want to try on a dress that doesn't exactly fit you, you can either visualize yourself in it, hold it in front of your body or put it on with the back exposed." This is the response I was emailed when I inquired about the try-on process for plus-size brides. It became clear early on that my "Say yes to the dress" moment might not be exactly what TLC promised.
In the bridal dress industry, holding a size 8 dress up to a size 16 body while the maid of honor, grandmother and mom watch is considered a time-honored tradition. It's supposed to be perfectly natural that a bride will collect her friends to watch her "try on" her dream dress that won't even zip.
I have been plus size — over a size 12 — for nearly my entire adult life. I am used to entering a store only to find it has nothing that fits, leaving without even trying anything on. But as a plus-size bride, I'm facing obstacles beyond mustering up the gall to spend over $1,000 on a dress I'm going to wear once.
Before getting engaged, I'd assumed that an industry built around making women look and feel beautiful in bespoke, handmade dresses would cater to all sizes. After the response I got from the wedding shop employee, this delusion evaporated. I began to understand that I was going to need to do a bit more research to find designers who offer "extended sizes" and shops that carry dresses I can physically try on before choosing one to wear while I marry the man that I love.
What to know before you go dress shopping
Post-engagement, I started talking with other plus-size brides on Instagram and in Facebook groups. It didn't take long for me to understand that I was not alone in my dress shopping disappointment.
My fellow plus-size brides shared their support, suggestions and frustrations for months. They sent blog posts, articles and tips to help make the process of plus-size dress shopping be as nightmare-free as possible. They told me I should look for plus-size bridal salons specifically, and that I should take a deep breath. They reassured me that I would in fact find the perfect dress. They advised me to drink plenty of water, wear appropriate undergarments and go to appointments with an open mind.
When these brides shared their own moments of finding their perfect dress, I felt inspired. Seeing other real-life brides with bodies similar to mine gave me hope.
It would be one thing if we were all supporting each other because we were outliers in the wedding dress industry by being plus-size brides, but there are a lot of us. In fact, when you consider that the average size of women in the United States is a 14 and bridal boutiques consider anything over 12 to be plus-size, we are actually in the majority. How broken is an industry where the majority of its customers are too big for its dresses?
Big prices, little promise
According to the Knot, after selecting a dress, brides are typically asked to put down a deposit equal to 60% of the total cost. The average cost of a wedding dress is $1,509, meaning the deposit comes out to around $905.
It's not only the bride who experiences this injustice. I was reminded during this process about a previous bridal experience when I had to order a bridesmaid dress that cost me almost $300. I had to order it not one, not two, but four times my normal dress size. I remember when the salesperson told me I'd have to order a size 26 instead of my normal 18. It was humiliating. I never wore that dress again.
The emotional cost of dress shopping
Bridal sizes are known to be multiple sizes larger than so-called "street sizes" — and being required to order multiple sizes up can have a lasting impact. Caitlin, a 26-year-old from Richmond, Virginia, had to order a dress about three sizes larger than her usual size. "I've struggled with weight and disordered eating for years, and being told what size I would need was like a punch in the gut," she said over email.
Christine, a 27-year-old woman from Fredericksburg, Virginia, had a similar experience when she was a 23-year-old bridesmaid. She ordered the largest bridesmaid dress available — a size 12 — although it didn't fit. When the wedding day arrived, Christine was hard-pressed: She worked to lose weight, but it wasn't enough, so her aunt sewed a piece of cloth on the back of the dress in order for it to close. Christine hasn't been a bridesmaid since.
A consultant at one bridal boutique had Michele, 29, from Washington, D.C., stand in front of a mirror while she held a dress over her body. Michele was told to visualize how the dress might look. After that experience, Michele said she called all her other appointments to make sure that they actually carried options for her to physically try on. That turned out to be the ticket to finding "the dress" — and she looked stunning.
Companies are starting to get it
Online, there's an abundance of plus-size dresses to fall in love with — but at brick and mortars, they are few and far between. Thankfully, some stores, brands and designers are catching on to the fact that all brides deserve to feel beautiful. Lovely Bride is one such retailer that has listened to the pleas of us curvy brides. In May, the company launched a series of Instagram videos, announcing that it would be carrying plus sizes. "We immediately got calls and messages from brides wanting to come," Danielle Anane, manager of Lovely Bride in Washington, D.C., said in an email.
Lovely Bride employees were given additional training when the brand first started to carry more variety of sizing, Anane said. They were taught how to correctly measure curvier brides and better understand their needs, as the whole process is a highly intimate and vulnerable experience for any bride, plus size or not. "We all want to feel bold and beautiful and that should be consistent for everyone, regardless of their size," Anane said.
Despite Lovely Bride's new focus, I found myself emailing them to confirm that they would actually have dresses for me to try. "Once you book and look at your online database of dresses by selecting our location, please just send me an email listing some of the specific dresses you would be interested in," the wonderful salesperson responded in an email. "Then I can work on getting some loaned out for your appointment."
I actually cried when I got this email — it allowed me to think that I just might have that moment of trying on a dress, and the chance to say "yes." It got me excited to plan my wedding again.