Expert: It's normal for Christine Blasey Ford's story to lack "superhuman levels of detail"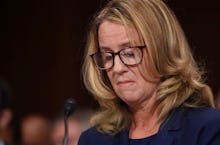 From the moment Christine Blasey Ford began speaking before the Senate Judiciary Committee on Thursday, it was clear that she was no ordinary victim.
Ford, who has accused Supreme Court nominee Brett Kavanaugh of assaulting her nearly 30 years ago, has a doctorate in educational psychology and currently works as both a professor at Palo Alto University and a research psychologist at the Stanford University School of Medicine. During questioning, she was nuanced and technical as she recounted an incident that she says took place during a house party in the Maryland suburbs in the summer of 1982, when she alleges Kavanaugh lunged at her in an upstairs bedroom of the home and pinned her down, struggling to remove her clothes. Ford characterizes the incident as an attempted rape.
When asked by Sen. Patrick Leahy what she remembers most about the assault, Ford did not hesitate: "Indelible in the hippocampus is the laughter, the uproarious laughter between the two — their having fun at my expense."
In an interview with Mic, Sherry Hamby, a sexual violence expert and director of the Life Paths Appalachian Research Center, said that it makes sense that "some of the most hurtful, shaming aspects of the event" would be the details most clearly remembered.
"Traumatic memories are different than 'normal' time," Hamby said. "It makes sense that she might not have clear memories of earlier in the day, just the way we can't remember what we had for breakfast and would just assume we probably had the kind of breakfast we usually have."
According to Hamby, traumatic memories are encoded when our brains are "bathed in adrenaline, cortisol and other chemicals" — all of the hormones that would have been surging through Ford's system as she struggled to fight off her attacker, who she testified had "his hand over my mouth to stop me from screaming."
"It has survival value to remember the details of dangerous situations, and they can be seared — to use Blasey Ford's word — in ways that ordinary events aren't," Hamby added.
During her opening remarks to senators, Ford's voice broke as she recounted how the encounter with Kavanaugh had bubbled up to the top of her consciousness. She said that while remodeling her home in the last decade, she insisted to her confused husband that they install a second front door. The modification was for security reasons, she later explained during a couple's counseling session with a therapist — and it was in that moment, she said, that the memory of her attack came flooding back.
"Insisting on redesigning a house to install a second front door is a good example of how victims will even go to considerable expense to try to create feelings of safety once those have been stolen by perpetrators."
According to Hamby, longstanding hypervigilance — like the kind that would make you want a second front door if you remembered fleeing a suburban home to escape violence as a teenager — is a symptom frequently seen in individuals who are experiencing post-traumatic stress. 
"It is common that people will take extraordinary steps to feel safe even years after a traumatic event," she said. "For example, I once worked with a Vietnam vet who insisted on sleeping with a knife under his mattress more than 20 years after he came back from Vietnam. Insisting on re-designing a house to install a second front door is a good example of how victims will even go to considerable expense to try to create feelings of safety once those have been stolen by perpetrators."
Other common signs of PTSD are behavioral symptoms like avoidance, Hamby said — for example, avoiding parties or crowded rooms if those circumstances are similar to those under which the trauma took place. In the long run, she noted, everyone responds to trauma differently. 
"The long-term burden of trauma is well-documented, but not everyone will have every symptom and you cannot judge the severity just by symptoms alone," Hamby said. "Therapy, support from loved ones and people's own work to process the event can reduce the symptoms over time."
As Ford continues to have her credibility called into question by Republican leaders eager to ensure a swift and affirmative confirmation vote for Kavanaugh, any holes in her memories will be examined under a microscope. But according to Hamby, it's perfectly normal that some of the specifics have been lost to time.
"She is being asked to provide some superhuman levels of detail, but if she gave the level of details that are being asked of her, her testimony would actually be less believable, from what we know of the science of trauma and memory," she said.