Emotions run high on Capitol Hill as Ford, Kavanaugh testify on sexual assault allegations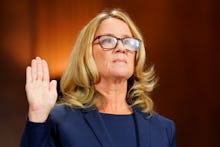 President Donald Trump on Thursday evening praised Brett Kavanaugh following a contentious, highly emotional day of testimony on the Supreme Court nominee's sexual assault allegations.
"Judge Kavanaugh showed America exactly why I nominated him," Trump tweeted after the Senate Judiciary Committee hearing Thursday. "His testimony was powerful, honest, and riveting. Democrats' search and destroy strategy is disgraceful and this process has been a total sham and effort to delay, obstruct, and resist."
"The Senate must vote!" Trump added.
The tweet of support for Kavanaugh capped a dramatic, historic day on Capitol Hill, during which Palo Alto University psychology professor Christine Blasey Ford detailed her disturbing sexual abuse accusations against Kavanaugh. The judge emphatically, and at times angrily, denied them.
Thursday's hearing could impact both Kavanaugh's nomination and the public image of the nation's high court.
"It's been an extraordinary event," Margaret Russell, a professor of law at Santa Clara University, said in a phone interview Thursday afternoon. "It's very damaging to the image of the Supreme Court right now."
The day began on an emotional note, with Ford recounting Kavanaugh's alleged assault when they were teenagers in the early 1980s. In her testimony, Ford said that she had been pushed into a room upstairs at the gathering and that a drunken Kavanaugh forced himself upon her, groping her and attempting to remove her clothes while she tried to yell for help.
"I believed he was going to rape me," she said.
She also described how the alleged assault "dramatically altered" her life, and how the harassment and threats she says she's faced since going public with her accusations earlier this month have "rocked me to my core."
"These past couple weeks have been the hardest of my life," Ford said.
Later on Thursday, Kavanaugh strongly disputed her testimony In a tearful, defiant opening statement before the committee Thursday afternoon, he accused Democrats of engaging in a "coordinated and well-funded effort to destroy my good name and destroy my family."
"I am innocent of this charge," he said.
Democrats on the committee praised Ford during their questioning and called for an FBI investigation into her accusations against Kavanaugh. Republicans ceded their questioning of Ford to Arizona sex crimes prosecutor Rachel Mitchell, who also grilled Kavanaugh about the allegations.
But Sen. Lindsey Graham's (R-S.C.) blistering attack on the committee's Democrats over their "despicable" treatment of Kavanaugh appeared to open the floodgates to an outpouring from Republicans seeking to defend the nominee.
"This is hell," Graham said, calling on Republicans to vote Kavanaugh onto the Supreme Court.
After Graham's lament, other Republicans then came to Kavanaugh's defense, with Sen. Mike Lee (R-Utah) calling the Democrats' handling of the situation "unfortunate" and Sen. Thom Tillis (R-N.C.) calling the allegations "smears."
"This has been, sadly, one of the most shameful chapters in the United States Senate," Sen. Ted Cruz (R-Texas) said Thursday.
According to Russell, the acrimonious, emotionally-charged hearing demonstrated the need for the process to be slowed down and more thoroughly investigated.
"My overall impression is that there needs to be a slower process," Russell said. "This is a rush to a vote when it doesn't really need to be."
Republicans reportedly decided to hold a committee vote on Kavanaugh Friday though, which could send the question of his confirmation to the full Senate.
It's not clear they have the votes to send Trump's nominee to the bench.
Trump and his allies had claimed they would withhold judgment until they heard Ford's testimony. But they also repeatedly defended him, with the president describing the nominee as "outstanding" and dismissing the allegations as a "con job."
To Democrats, such comments suggested that Republicans had already decided on Kavanaugh before Ford even testified.
"It's clear their minds are made up," Rep. Gwen Moore (D-Wis.) told Mic in a statement Thursday. "This is nothing more than a show to check their boxes before they vote. We can't let that vote go through. We must have a full and thorough investigation."
Democrats also described Ford's testimony as "credible" and called on Republicans to take her allegations "seriously."
"President Trump and his allies have not taken the women who have accused Judge Kavanaugh of sexual misconduct seriously," Rep. Rosa DeLauro (D-Conn.) said in a statement emailed to Mic. "If they had, they would recognize how credible Dr. Ford's testimony has been today — as well as the flood of further accusations that have come forward after Dr. Ford bravely came forward — and immediately withdraw Judge Kavanaugh's nomination."
"This is a lifetime appointment to the highest court in the United States, and its nominees should be beyond reproach," DeLauro added. "Judge Kavanaugh has failed to live up to that standard."
Kavanaugh's fate will likely depend on a few key Republican senators — including Susan Collins of Maine, Lisa Murkowski of Alaska and Jeff Flake of Arizona — who have expressed concern about the nominee and the confirmation process in light of the allegations.
Those three moderate Republicans reportedly huddled with Sen. Joe Manchin (D-W.Va.), a conservative Democrat whose vote is also being closely watched, on Thursday night, but it was not immediately clear how they planned to vote.