Judiciary chairman Chuck Grassley's repeated interruption makes for uncomfortable Senate hearing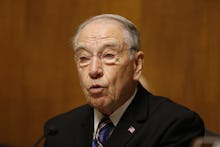 Senate Judiciary Commitee chairman Chuck Grassley, the Iowa Republican who is overseeing the hearing where professor Christine Blasey Ford is detailing her sexual assault allegation against Supreme Court nominee Brett Kavanaugh, has come under fire for consistently interrupting women on the committee.
Grassley's first interruption came at the beginning of the hearing Thursday, when he angrily interjected during Sen. Dianne Feinstein's opening remarks after Feinstein said she was going to introduce Ford after Grassley did not.
Grassley's interruptions continued multiple times throughout the first part of the hearing, when he interrupted the female prosecutor Republicans hired to ask Ford questions.
"I think it's important to make sure you're properly introduced," Feinstein (D-Calif.) said in her opening remarks.
Grassley interjected. "I was going to introduce her," he shot back, "but if you want to introduce her, I'll be glad to have you do that. I want you to know I didn't forget to do it."
Grassley also interrupted Rachel Mitchell, the prosecutor, as she was in mid-question to Ford. And he later accused Sen. Kamala Harris (D-Calif.) of "rudely" interrupting testimony when Mitchell was asking Ford questions from documents that Democrats on the committee were not provided.
Even Republicans who back President Donald Trump questioned Grassley's conduct.
"Why the heck did @ChuckGrassley just interrupt Mitchell's questioning?" Laura Ingraham, the Trump supporting Fox News personality, tweeted when Grassley interrupted Mitchell. "Really really imprudent!"
So far in Ford's testimony, she has stated she is "100%" certain that Kavanaugh was who attacked her at the high school party in the early 1980s. She recalled her most vivid memory from the alleged attack.
"Indelible in the hippocampus is the laughter," Ford said. "The uproarious laughter between the two and their having fun at my expense."