Christine Blasey Ford says she's "100%" certain Kavanaugh was her attacker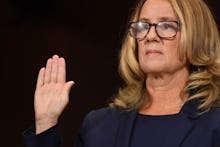 In a powerful testimony before the Senate Judiciary Committee on Thursday, Christine Blasey Ford said she was "absolutely" certain that Supreme Court nominee Brett Kavanaugh attacked her in the 1980s.
Kavanaugh and his defenders have suggested that perhaps someone else assaulted the Palo Alto University psychology professor. But in an emotional hearing on Capitol Hill, Ford said it was not a case of mistaken identity.
"With what degree of certainty do you believe Brett Kavanaugh assaulted you?" Sen. Dick Durbin (D-Ill.) asked her Thursday.
"100%," she replied.
The exchange came after Ford detailed her experience being allegedly sexually assaulted by Kavanaugh when they were teenagers in the early 1980s and how the alleged attack has impacted her life in the decades since.
She told the panel that an intoxicated Kavanaugh forced himself on her in a bedroom during a gathering as his friend, Mark Judge, looked on.
"I believed he was going to rape me," she said.
Following her opening statement, she faced questioning from Democrats on the Senate Judiciary Committee, as well as Arizona sex crimes prosecutor Rachel Mitchell, who questioned her on behalf of the panel's Republicans.
Democrats spoke in support of Ford, with Sen. Cory Booker (D-N.J.) calling her a "hero." Mitchell, meanwhile, questioned Ford about the night of her alleged assault and its aftermath, along with other other matters — including the fear of flying, which she said made her reluctant to travel to Washington, D.C., to testify.
Ford appeared credible throughout the hearing, according to senators and legal experts, and at times appeared emotional as she recounted her experience. Republicans spoke positively about her, but some, including Sen. Lindsey Graham (R-S.C.), questioned her credibility.
Kavanaugh is due to testify before the committee on the allegations later Thursday.
The allegations, which first surfaced in the New Yorker on Sept. 14, have thrown Kavanaugh's confirmation into question. Since Ford's accusations were made public, two other women have come forward with their own allegations against the judge.
Kavanaugh has denied all the accusations.
President Donald Trump, who nominated Kavanaugh to replace Anthony Kennedy in July, has repeatedly defended the judge and described the allegations as a "big fat con job" by Democrats to obstruct the confirmation process.
Sept. 27, 2018, 2:35 p.m. Eastern: This story has been updated.