Who's Sorry This Week? Jesse Williams, Khloé Kardashian and other public apologies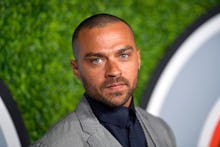 Sometimes it feels like the crushing weight of the world is just too much — but don't worry, we'll always have public apologies to save us from total despair!
In Who's Sorry This Week? Mic tracks down the most prominent mea culpas from celebrities, companies and other public entities trying to make amends for their various screwups.
Let's examine this week's apologies, shall we?
Jesse Williams is sorry for making Emmett Till into a meme — sort of
Grey's Anatomy actor Jesse Williams sort of apologized on Wednesday for a series of tweets earlier this week where he overlaid Colin Kaepernick's new Nike slogan on photos of Mamie Till Mobley mourning her slain son. The photos were apparently meant to generate hype for Williams' upcoming directorial debut, Till, about the death of Emmett Till at the hands of a racist mob, and his family's subsequent fight for justice.
But putting the tagline, "Believe in something. Even if it means sacrificing everything," over the images of a woman mourning her child didn't go over well on social media. Williams deleted the offending tweets, and posted a long message on Instagram on Wednesday.
He said, in part, "While some clearly understood my intention and its connection to Mamie's real life, many didn't. As much as I'd like to address what my intentions were and the meaning of those images, it's more important that I first acknowledge that I seem to have offended and possibly hurt some of the very people I aim to uplift."
So, while he didn't explicitly say the word "sorry," it seems like Williams knows he messed up.
The New York Times apologized for a Twitter poll about Christine Blasey Ford
On Thursday, while Christine Blasey Ford was testifying before the Senate Judiciary Committee about her allegations that Supreme Court nominee Brett Kavanaugh sexually assaulted her in the '80s, the New York Times opinion section tweeted a cringeworthy poll. It asked followers to vote "Yes," "No" or "Unsure" as to whether Ford's testimony was "credible."
The backlash was quick — and shortly after posting the poll, the account sent out an apology, saying, "We're sorry for this tweet. In retrospect, a Twitter poll is insensitive in light of the gravity of this hearing. We've deleted it."
Now that she's a mom, Khloé Kardashian is sorry for being hard on her sister
Khloé Kardashian, who had her first baby, True Thompson, back in April, is sorry for being hard on her sister Kourtney Kardashian, after she became a mother. "I'm still in my pajamas right now, I've been up since five, I have not had a second to even change my clothes," Khloé Kardashian told Us Weekly on Wednesday. She said she used to criticize her older sister, a mom of three, for looking too "Mom." But now she's sorry.
"I feel bad that I used to call Kourtney and be like, 'Oh, God. You look so Mom,'" Kardashian said. "I feel bad that I used to do that. I'm gonna apologize to Kourt." Let us know when you've gone and made that apology, OK?
Bow Wow is sorry for "acting like a fuckboy"
Rapper Bow Wow (formerly known as Lil Bow Wow) posted a cryptic tweet on Wednesday, apologizing to basically everyone for "tripping and acting like a fuckboy."
"Want to apologize to my fans and the public and my SSD family lately i been tripping and acting like a fuck boy," he wrote. "My mind is clear im back on track thanks to GOD! see you on the road. Forgive me for my immature ways. Lets handle business. Thanks."
It's not exactly clear what Bow Wow is referring to, but Complex pointed out on Wednesday that he made headlines back in June for criticizing the woman accusing Jamie Foxx of sexual misconduct — and then again in July when he tweeted that he was quitting rap to work at GameStop. Are those things that a "fuckboy" would do? Hard to say, but your apology is noted, Bow Wow.
Lily Allen regrets how she said sorry
British singer Lily Allen just (sort-of) apologized for a past apology, HuffPost UK reported on Thursday. Back in 2016, Allen was filmed visiting the Calais Refugee Camp in France and telling an Afghan teenager, "We've bombed your country, put you in the hands of the Taliban and now put you in danger of risking your life to get into our country. ... I apologize on behalf of my country. I'm sorry for what we have put you through."
Those comments sparked anger from Brits who were apparently upset that she apologized on their behalf. And now, two years later, Allen is expressing regret for the way she phrased that apology. In her new memoir, My Thoughts Exactly, which came out earlier in September, Allen wrote, "It was a clumsy thing to say. I wanted to say, 'I'm sorry,' and I wanted to acknowledge that I was part of the problem, and that we are all part of the problem if we don't do more to help. ... The words came out badly, and for that I felt foolish. I was embarrassed about putting it like that."