Trump postpones Rosenstein meeting amid Kavanaugh sexual assault hearing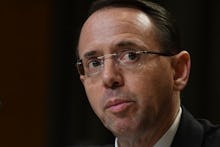 President Donald Trump on Thursday postponed his meeting with Deputy Attorney General Rod Rosenstein as his Supreme Court nominee, Brett Kavanaugh, faces sexual assault allegations in a hearing on Capitol Hill.
The two will now meet next week.
"The president spoke with Rod Rosenstein a few minutes ago and they plan to meet next week," White House press secretary Sarah Huckabee Sanders said Thursday morning. "They do not want to do anything to interfere with the hearing."
Trump had been due to meet with Rosenstein following Friday's bombshell report that the deputy attorney general in 2017 proposed wearing a wire to secretly record the president and had discussed recruiting members of his Cabinet to declare Trump unfit for office.
Rosenstein challenged the New York Times report, but it raised the specter of his possible firing or forced resignation.
His departure would likely have a major impact on the Russia probe, as Rosenstein oversees special counsel Robert Mueller's investigation.
Trump has not said either way if he would fire the deputy attorney general, whom he's publicly criticized on numerous occasions, but suggested in an off-the-rails press conference Wednesday evening that he would prefer not to terminate him.
He also said during that press conference that he could push back his meeting with Rosenstein, which was scheduled for Thursday, the same day Kavanaugh and his accuser, Christine Blasey Ford, were due to appear before the Senate Judiciary Committee.
Ford, a Palo Alto University psychology professor, was the first of three women to publicly accuse the Supreme Court nominee of sexual abuse. The allegations have called Kavanaugh's confirmation into question.
In a powerful testimony to the panel on Thursday, Ford alleged that a drunken Kavanaugh forced himself on her during a gathering in the early 1980s when they were teenagers as a friend looked on.
"Brett's assault on me dramatically altered my life," she said in an emotional opening statement.
Trump has repeatedly defended Kavanaugh and has called the allegations part of a "big fat con job" by Democrats to derail his Supreme Court nominee. But he also claimed during his press conference Wednesday that he could reconsider Kavanaugh's nomination if he found Ford credible.