Mic Daily: Trump releases a new xenophobic campaign ad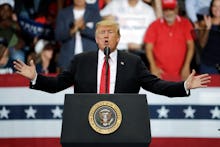 Good evening, folks, and happy Thursday. Today was jam-packed with news, starting with protests at Google over a long-standing culture of gender inequity and finishing with reports that President Donald Trump has found a replacement for Nikki Haley, outgoing U.S. ambassador to the United Nations.
Let's dive right in.
A recent New York Times report found Google offered Android co-founder Andy Rubin $90 million upon leaving the company in the wake of sexual harassment allegations against him. As a result, Google employees are walking out to protest not only that specific incident but also the company's endemic culture of sexual harassment as a whole.
Instead of engaging in a scheduled debate with Georgia's Democratic gubernatorial candidate Stacey Abrams, Republican nominee Brian Kemp dropped out so he could join President Donald Trump for a campaign rally. On top of allegations that Kemp has been involved in widespread voter suppression in the state, this last-minute cancellation sparked a dramatic back-and-forth between the two candidates.
A new campaign released on Trump's Twitter is a perfect — albeit horrific —encapsulation of his xenophobic beliefs toward immigrants. The ad shows undocumented immigrant Luis Bracamontes laughing and bragging about killing police officers and promising to kill more. "Democrats let him into our country," the ad says. "Democrats let him stay."
A new lawsuit has been filed against Harvey Weinstein on behalf of an anonymous 16-year-old Polish model who said Weinstein threatened to ruin her career if she didn't engage in sexual acts with him. At their first of several alleged encounters, Weinstein allegedly forced the woman to "touch and massage" his penis, allowing her to leave only after she screamed.
Trump has apparently found a replacement for Nikki Haley, the outgoing U.S. ambassador to the United Nations who announced her resignation in October. Her rumored replacement? Heather Nauert, current Department of State spokesperson and former Fox News anchor.
Mic Daily is Mic's newsletter that cuts through the noise and lands in your inbox every weekday. We carefully curate each edition to send you a cross section of our most vital stories of the day.