Mic Daily: The Obamas might have found their first Netflix project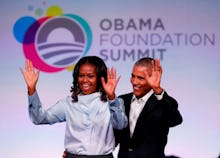 Good evening folks, and Happy Halloween. Before you head off into the night, take a moment to catch up on the five top stories out of Mic today, won't you?
We're less than a week away from the midterm elections, and if things go as expected, the Democrats will take control of the House. If they do, they'll also gain control of the 27 House committees that oversee areas like health care and the federal budget.
Mic's Emily Singer has picked the three Democrats most likely to take charge of key committees. Memorize their faces and get familiar, y'all.
It was announced earlier in 2018 that former President Barack Obama and former first lady Michelle Obama had landed a "multiyear production deal" to produce movies and television shows for Netflix. It appears the Obamas' first project will be an adaptation of The Fifth Risk, a book documenting the incompetence of the Trump administration amid its rise to power.
In the weeks leading up to the midterms, President Donald Trump has been throwing support behind key Republican candidates — but, as Mic's Eric Lutz points out, he doesn't actually seem to be all that aware of the specifics of each race.
In one case, Trump praised Virginia Republican hopeful Denver Riggleman for being "really big help with Tax Cuts, the Military and our great Vets." An interesting choice of words, considering Riggleman isn't an incumbent and hasn't even been elected yet.
Amid widespread allegations of voter suppression in Georgia, it's worth looking forward to the ways in which voter access might change after the elections are over. Mic's Alison Durkee has done exactly that, summarizing key ballot measures across the country that could greatly expand voter access in some states — and would restrict it in others.
Perhaps you heard a recent news story about "Blexit," a campaign led by outspoken conservative Candace Owens meant to encourage black people to abandon the Democratic Party. It was initially reported Kanye West helped design Blexit merchandise — but the situation quickly got messy, with West denying involvement in the campaign and eventually vowing to cease engaging in political matters entirely.
Well, Owens has finally responded.
Mic Daily is Mic's newsletter that cuts through the noise and lands in your inbox every weekday. We carefully curate each edition to send you a cross section of our most vital stories of the day.