Lindsey Graham rages over Kavanaugh allegations: "This is hell"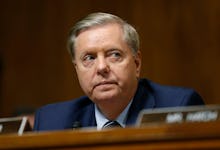 Sen. Lindsey Graham (R-S.C.) lashed out at Democrats in a fiery statement Thursday during a hearing on Supreme Court nominee Brett Kavanaugh's sexual assault allegations.
"This is the most unethical sham since I've been in politics," Graham said as Kavanaugh testified over his sexual misconduct accusations. "This is not a job interview. This is hell."
The blistering rebuke of Democrats came after Christine Blasey Ford, the Palo Alto University psychology professor who accused Kavanaugh of assaulting her, testified about her experience with the judge.
Graham called the allegations "crap" and accused Democrats of using Ford to ruin Kavanaugh's life and to block his confirmation to the Supreme Court. He urged Republicans not to cave in.
"If you vote no, you're legitimizing the most despicable thing I've seen in my time in politics," he said.
Graham repeatedly defended Kavanaugh and slammed Democrats against the backdrop of the Senate Judiciary Committee hearing on Thursday.
In remarks to reporters during a break in the hearing, Graham urged Republicans to stand strong on Kavanaugh in the face of the "uncorroborated" allegations against him and threatened Democrats over the "new norm" he said they're establishing.
"To my Republican colleagues: If you can ignore everything in this record, looking at an allegation that's 35 years old, that's uncertain in time, place, date, and no corroboration. If that's enough for you, God help us all as Republicans, because this happens to us, it never happens to them," Graham told reporters Thursday.
"But let me tell my Democratic friends: If this is the new norm, you'd better watch out for your nominees," Graham added.
Earlier in the day, Ford delivered a stirring, emotional testimony in which she described Kavanaugh forcing himself on her during a party when they were teenagers.
The accusations first surfaced in media reports earlier this month, after Ford sent a letter to Sen. Dianne Feinstein. Since then, two other women have made similar allegations against the Supreme Court nominee.
Graham has strongly questioned the credibility of the allegations against Kavanaugh.
Kavanaugh also denied the allegations in a fiery, emotional statement to the Senate Judiciary Committee Thursday afternoon.
"I've never sexually assaulted anyone, not in high school, not in college, not ever," Kavanaugh told the panel.
Graham's defenses of Kavanaugh echo those of President Donald Trump, who has repeatedly called his nominee an "outstanding" person and slammed the allegations as a "con job" by Democrats to derail his confirmation.
Graham had been, at one time, one of the most prominent Republican critics of the president. But the South Carolina Senator has since become one of Trump's most ardent defenders.
In his remarks to reporters during the hearing Thursday, Graham said he supported holding a vote on Kavanaugh's confirmation Friday — a vote he said Democrats were trying to "delay" by raising the allegations.
"I don't want to reward that kind of behavior," he said of Democrats. "I think we've been very fair."