Dozens of people arrested while protesting Brett Kavanaugh's Supreme Court nomination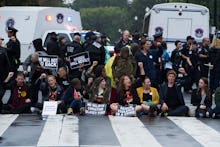 Women's March leaders Tamika Mallory, Linda Sarsour and Bob Bland, were among at least 57 people who were arrested at a rally protesting the Supreme Court nomination of Brett Kavanaugh on Thursday afternoon, DCist reports.
Sexual assault survivors and advocates descended upon Capitol Hill, as the Senate Judiciary Committee held hearings questioning Christine Blasey Ford, a professor who accused Kavanaugh of sexual assaulting her while they were in high school. Kavanaugh also was called to testify.
The day of action began with a Women's March rally to the Supreme Court around 12:30 p.m.
"We are standing together in ways that we haven't before," said Women's March co-president Tamika Mallory, while addressing demonstrators. Mallory emphasized the importance of intersectional feminism — the solidarity of women and men of all colors and backgrounds coming together to address the issue of sexual assault and other injustices alike — in this moment and ahead of midterm elections.
"We are changing what feminism looks like," Mallory said. "No longer will it be a movement that suits the needs of white women."
Demonstrators with the Women's March wore T-shirts reading, "Believe Women" and "I am a survivor and I vote." Participants also chanted, "Hey, hey, ho, ho, Kavanaugh has got to go!" and "No means no, Kavanaugh has got to go!"
During hearings around the allegations Thursday, Ford made her first public appearance since coming forward and detailing her alleged encounter with Kavanaugh and his friend Mark Judge when she was 15.
Ford stated the effects of the alleged attack followed her for years, describing claustrophobia, post-traumatic stress and academic struggles as some of those obstacles.
Sen. Dick Durbin asked Ford, "What degree of certainty do you believe Brett Kavanaugh assaulted you?"
"100%," Christine Blasey answered.
When Kavanaugh took the stand, he continued to deny the allegations.
"I've never sexually assaulted anyone, not in high school, not in college, not ever," Kavanaugh said Thursday.