Today in Trump's America: After ugly hearing, Republicans forge ahead with Kavanaugh confirmation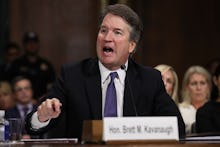 Welcome to Mic's daily read on Donald Trump's America. Want to receive this as a daily email in your inbox? Subscribe here.
Good morning from Emily Singer at Mic.
Here's what's happening in Trump's America:
• The Senate Judiciary Committee is set to vote on Brett Kavanaugh's nomination to the Supreme Court at 9:30 a.m. Republicans can still put his nomination to a full vote, even if he doesn't receive a majority of the committee's support.
About last night: American Bar Association, Yale Law School dean call for delay in Kavanaugh nomination
The American Bar Association, whose support Supreme Court nominee Brett Kavanaugh touted during his angry testimony Thursday in an effort to save his confirmation hopes, has called for a delay in Kavanaugh's confirmation process to allow for an FBI investigation into the sexual assault allegations by Palo Alto University professor Christine Blasey Ford.
"The basic principles that underscore the Senate's constitutional duty of advice and consent on federal judicial nominees require nothing less than a careful examination of the accusations and facts by the FBI," ABA President Robert Carlson wrote in a letter to Senate Judiciary Committee Chairman Chuck Grassley (R-Iowa) and Sen. Dianne Feinstein (D-Calif), the committee's ranking member.
The dean of Yale Law School, where Kavanaugh attended and whose academic prestige Kavanaugh touted as reason he is deserving of a seat on the Supreme Court, also called for a delay in the confirmation.
"I join the American Bar Association in calling for additional investigation into allegations made against Judge Kavanaugh," Yale Law School Dean Heather Gerken said in statement. "Proceeding with the confirmation process without further investigation is not in the best interest of the Court or our profession."
The ABA and the dean of Yale Law School's call for a delay comes after America magazine, which describes itself as the "leading provider of editorial content for thinking Catholics and those who want to know what Catholics are thinking," said Thursday that Kavanaugh's nomination should be withdrawn.
"While we previously endorsed the nomination of Judge Kavanaugh on the basis of his legal credentials and his reputation as a committed textualist, it is now clear that the nomination should be withdrawn," the publication wrote.
Kavanaugh attended Georgetown Prep, a Jesuit high school in Maryland.
Despite these calls, Republicans will forge ahead with Kavanaugh's nomination, with a vote in the Senate Judiciary Committee scheduled for Friday morning.
Many Republicans are sticking by Kavanaugh, including former President George W. Bush, Politico reported.
The vote to watch, however, is from Sen. Jeff Flake (R-Ariz.), who sits on the Judiciary Committee and is one of the three Republican senators whose decision on Kavanaugh is currently unknown. He could help sink Kavanaugh's nomination.
Today in Trump's America: Three GOP senators hold the fate of the Supreme Court in their hands
Senate Republicans are moving fast on Kavanaugh's confirmation. They're backed by support from President Donald Trump, who lauded Kavanaugh's testimony Thursday as "powerful, honest and riveting." He did not mention the testimony of Ford, Kavanaugh's accuser.
While Trump and many Republicans back Kavanaugh's nomination, the votes of three Republican senators who hold Kavanaugh's fate in their hands are currently unknown.
Sens. Jeff Flake of Arizona, Lisa Murkowski of Alaska and Susan Collins of Maine have not yet stated which way they will vote. If all three vote no, along with all Democrats voting no, Kavanaugh will not be confirmed to the Supreme Court.
Politico reports the votes of two Democratic senators — Sens. Joe Donnelly of Indiana and Joe Manchin of West Virginia — are also unknown. They are expected to vote in a bloc with Collins and Murkowski.
This all comes after Kavanaugh's angry testimony Thursday in which he issued threats to Democrats, conjured up conspiracy theories that the Clintons were somehow behind the allegations he faced and refused to agree to an FBI investigation into his alleged conduct.
Kavanaugh's ultra-partisan outbursts raise concerns about how he could ever serve as an impartial arbiter of the law if confirmed to the Supreme Court.
And the rest...
Ford's testimony: A prosecutor who Republicans hired to question Ford tried to poke holes in her account Thursday by asking about every detail of the night she alleges she was sexually assaulted. Mic's Brianna Provenzano has a great piece explaining why Ford may not remember all the details.
Rosenstein's fate still up in the air: While the world watched Ford and Kavanaugh testify, the White House announced Trump's meeting with Deputy Attorney General Rod Rosenstein is postponed until next week.
Friday Sept. 28, 2018 1 p.m.: This article has been updated.