Urban Outfitters' new "Influencer Halloween Costume" is really just a cheap Yeezy Season 6 knockoff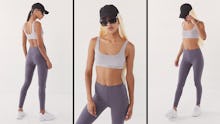 Prepare to be spooked: On Halloween, for $59, you can dress up in a pre-packaged Urban Outfitters bra top and leggings, or what they are calling their "Influencer Halloween Costume Set."
How this "costume" (which does not come with hat, sunglasses, shoes or, perhaps most notably, the wig) somehow will make it seem like you've dressed up for Halloween and not that you're on your way home from a SoulCycle class in Calabasas remains a great unknown.
It appears the costume is a take on Kanye West's Yeezy Season 6 campaign which saw models (including Paris Hilton, seen below) walking around as Kim K clones.
Niche reference? Niche. Reference.
In the scheme of Urban Outfitters' odd decisions, this one might be small. After all, precedent includes selling shampoo for "suicidal hair," selling a Kent State University sweatshirt with what appeared to be blood splatters, selling a tapestry with a design too similar to Holocaust clothing or the time they tried to sell a T-shirt in "Obama/Black."
That's just four. Want another? How about the time they tried selling the not-so-classic board game "Ghettopoly."
This is all to articulate that Urban Outfitters might have a penchant for courting controversy.
The reviews — all five of them — seem to be mixed. User "Pern330" wrote: "Influencers are the dumbest things I've ever seen. Get a real job." Still, the user gave the costume five stars out of five. Meanwhile user "sam lol" gave the costume one star, noting that "this might be the dumbest thing I've witnessed."
Perhaps take our advice from 2017 and decide not to dress up this Halloween.