Senate Judiciary Committee advances Kavanaugh's nomination, but Flake calls for 1-week FBI probe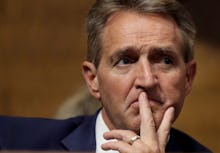 The Senate Judiciary Committee gave Supreme Court nominee Brett Kavanaugh a favorable recommendation Friday afternoon, a move that will advance his nomination to the full Senate for an up-or-down vote.
The committee voted along party lines, with all 11 Republicans voting to advance Kavanaugh's nomination and all 10 Democrats voting no.
However, Sen. Jeff Flake (R-Ariz.) said his full support of Kavanaugh was conditional on allowing a one-week FBI investigation into the sexual assault allegations the nominee has faced in recent weeks.
"I will move it out of committee," Flake said, adding he would "only be comfortable moving on the floor" after a one-week FBI investigation has occurred.
Flake's call for an FBI probe before a full Senate vote was echoed by Sen. Lisa Murkowski (R-Alaska).
Meanwhile, Trump told reporters at the White House on Friday that he would do "whatever they think is necessary" for a vote on Kavanaugh, meaning he might be open to an FBI investigation.
Flake announced earlier Friday morning he would vote to confirm Kavanaugh to the Supreme Court. "Our system of justice affords a presumption of innocence to the accused, absent corroborating evidence," he said in a statement.
After Flake released that statement, a woman who identified herself as a survivor of sexual assault confronted him on an elevator on Capitol Hill.
"You're telling all women that they don't matter," the woman told Flake in an emotional confrontation. "That they should just stay quiet because if they tell you what happened to them, you're going to ignore them."
The committee's vote came a day after Kavanaugh angrily defended himself against sexual assault allegations from Palo Alto University professor Christine Blasey Ford, who detailed her accusations in testimony before the committee Thursday.
Ford's testimony was followed by that of Kavanaugh, who threatened Democrats, claimed he was the victim of "revenge on behalf of the Clintons" and refused to agree an FBI investigation into the allegations was necessary before his nomination could proceed.
Kavanaugh's angry partisan outbursts — at times through tears — are unprecedented, and could leave a large swath of Americans feeling like his decisions pertaining to any cases related to Democrats will be neither impartial nor fair.
Sen. Dianne Feinstein (D-Calif.) brought up Kavanaugh's behavior during Friday's vote.
"In the 25 years on this committee, I have never seen a nominee for any position behave in that matter. Judge Kavanaugh used as much political rhetoric as my Republican colleagues," Feinstein said.
She added, "This was not someone who reflected an impartial temperament or an evenhandedness as seen in a judge. This is someone who was aggressive and belligerent."
Kavanaugh's nomination is currently scheduled for a cloture vote Saturday, in which senators will vote to end debate on his nomination and set up a full up-or-down vote for early next week.
Sept. 28, 2018, 2:41 p.m.: This article has been updated.