5 dubious claims from Brett Kavanaugh that raise hard questions about his credibility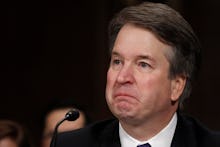 Supreme Court nominee Brett Kavanaugh on Thursday angrily and at times tearfully denied having drunkenly sexually assaulted Christine Blasey Ford when they were teenagers, telling the Senate Judiciary Committee in an intense and emotional hearing that he is "innocent of this charge."
A number of dubious claims he made Thursday afternoon raised serious questions about the credibility of his testimony, though. Here are some of the most head-scratching.
Allegations are "revenge on behalf of the Clintons"
Ford, a psychology professor at Palo Alto University, detailed Kavanaugh's alleged attack at a party when they were teenagers in a moving testimony Thursday morning before the committee.
In his own testimony, though, Kavanaugh angrily claimed that Ford's allegations — and those of two other women — were part of a "calculated and orchestrated political hit fueled with apparent pent-up anger about President Trump and the 2016 election."
Bizarrely, he also asserted — without any evidence — that the accusations were leveled at him in an act of "revenge on the part of the Clintons."
This was a stunningly partisan statement for the Supreme Court nominee to make, and one made all the more surreal for the lack of substantiation he provided for the claim. It seemed, as much of his fiery defense did, to be a performance aimed to please President Donald Trump, who had appeared on the eve of the hearing to leave open the possibility of withdrawing his nomination.
Previous to Thursday hearing, Trump had reportedly been unhappy with the way Kavanaugh had defended himself against the allegations, feeling the judge had not been forceful enough in his denials. It's perhaps no accident, then, that Kavanaugh would point his finger at Trump's 2016 rival — Hillary Clinton — and echo the president's ire at the Democrats in his emotional defense Thursday.
It seemed to resonate with Trump, who in a tweet Thursday evening called Kavanaugh's testimony "powerful, honest and riveting."
"Judge Kavanaugh showed America exactly why I nominated him," Trump wrote.
The "Renate Alumni" yearbook reference
Kavanaugh on Thursday was asked to explain a portion of his high school yearbook that read, "Renate Alumni," a reference, former classmates of the judge told the New York Times, to a student at another school named Renate Schroeder.
The reference clearly appeared to be "unsubstantiated boasting" of sexual conquests over Schroeder, the former classmates told the paper. But according to Kavanaugh, it was merely "clumsily intended to show affection and that she was one of us."
"It was not related to sex," Kavanaugh said. "She and I never had any sexual interaction at all. So sorry to her for that yearbook reference."
This seems an exceedingly shaky explanation.
Michael Walsh, a classmate of Kavanaugh's and a fellow "Renate Alumnus," seemed to describe Schroeder in sexual terms in a poem in his yearbook, as the Times article points out.
"You need a date/and it's getting late/so don't hesitate/to call Renate," the poem read, according to the Times.
That the "Devil's Triangle" was a drinking game
Kavanaugh offered a similarly weak explanation for yearbook references to the terms "Devil's Triangle" and "boof."
The judge claimed that "Devil's Triangle" was the name of a drinking game, and that "boof" was a reference to flatulence.
"We were 16," he said by way of explanation.
But Times reporters disputed his definitions of the terms, saying that Kavanaugh's former classmates said his explanations of the references were "not true."
"Boof," as numerous outlets have pointed out, has often been used as a slang term for anal sex. "Devil's Triangle" has also often been used to describe a sex act involving two men and a woman.
On Thursday, an IP address reportedly linked to the House of Representatives altered the Wikipedia entry for "Devil's Triangle" to reflect Kavanaugh's explanation — a drinking game similar to quarters.
"People were legal to drink"
Kavanaugh's drinking in high school and college — the periods when the alleged misconduct occurred — was also highly scrutinized on Thursday.
His high school yearbook contained a reference to the "Ralph Club," which some interpreted as a reference to excessive drinking to the point of vomiting. According to Kavanaugh, the reference to "throwing up" was actually made not because of his drinking but because of his "weak stomach."
"Anyone who's known me... know [that] I got a weak stomach, whether it's with beer or spicy food or anything," he said in an exchange with Sen. Sheldon Whitehouse (D-R.I.).
When Whitehouse asked to clarify that the yearbook comment was not in reference to heavy drinking, Kavanaugh cited his academic and athletic credentials.
"I worked my tail off," he said.
Kavanaugh repeatedly defended himself in questioning about his drinking, explaining many times that he "liked beer" and that it was legal for him to drink it.
"The drinking age as I noted was 18, so the seniors were legal," he said. "Senior year in high school, people were legal to drink."
But he was mistaken Thursday in his description of the legal drinking age at the time of the alleged incident with Ford in 1982, as the Time pointed out. The legal drinking age in Maryland during the summer of 1982 was 21; Kavanaugh was 17 and did not turn 18 until the next February.
Ford allegations have been "refuted"
Kavanaugh strongly denied having sexually assaulted Ford, and cited letters written by others she said were present at the gathering in question as evidence that her claims have been "refuted."
"Dr. Ford's allegation is not merely uncorroborated, it is refuted by the very people she says were there, including by a longtime friend of hers," Kavanaugh told the Senate Judiciary Committee. "Refuted."
But that's not true, as the Washington Post observed.
Mark Judge, a friend of Kavanaugh's who Ford said was in the room during the alleged assault; P.J. Symth, a classmate who Ford claimed was downstairs during the alleged incident; and Ford's friend, Leland Keyser, whom Ford said was also at the party all issued statements stating that they had no "memory," "recollection" or "knowledge" of the alleged attack.
But they are not outright denials, and Keyser has told the Post that she believes Ford's account.
Democrats have called for a full FBI investigation into the Kavanaugh allegations, but Republicans have rejected such a probe and will hold a committee vote on Friday. If he passes through the committee, the Senate will hold a procedural vote on Saturday and could confirm him in the full Senate as early as next week.
Kavanaugh's confirmation will likely come down to three key Republican senators: Jeff Flake of Arizona, Susan Collins of Maine and Lisa Murkowksi of Alaska.
Flake announced Friday he would vote to confirm Kavanaugh.