"You're telling all women that they don't matter": Protesters confront Sen. Jeff Flake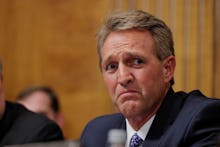 Protesters confronted Sen. Jeff Flake (R-Ariz.) in an elevator Friday morning after the key swing vote announced he'd vote to confirm Supreme Court nominee Brett Kavanaugh.
"You're telling all women that they don't matter," a woman who identified herself as a survivor of sexual assault told Flake in an emotional confrontation on Capitol Hill Friday. "That they should just stay quiet because if they tell you what happened to them, you're going to ignore them."
The exchange came just before a committee vote on President Donald Trump's Supreme Court nominee, and the morning after a contentious hearing on the judge's sexual abuse allegations.
Christine Blasey Ford, a psychology professor at Palo Alto University, described a drunken Kavanaugh allegedly forcing himself upon her at a gathering when they were teenagers in her testimony before the Senate panel on Thursday.
"I believed he was going to rape me," she said on Thursday.
Kavanaugh angrily denied the accusations and said that Democrats were guilty of a "coordinated and well-funded effort to destroy my good name and destroy my family."
Flake, with Sens. Susan Collins (R-Maine) and Lisa Murkowski (R-Alaska), were seen as key swing votes on his confirmation.
Flake on Friday morning announced in a statement that he would vote yes on Kavanaugh, despite having left Thursday's hearing "with as much doubt as certainty."
Flake was silent as he was confronted with protesters Friday, nodding as at least two women who said they were sexual assault survivors said that his vote to confirm was "allowing someone who is unwilling to take responsibility for his own actions" to ascend to the nation's high court.
"Look at me when I'm talking to you," one of the women said. "Don't look away from me. Look at me and tell me that it doesn't matter what happened to me."