Georgia's Brian Kemp sent mailers saying Stacey Abrams wants to let "illegal immigrants" vote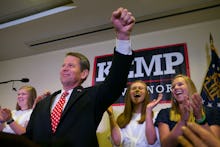 With Georgia's competitive gubernatorial election only a few weeks away, GOP nominee Brian Kemp's campaign is taking time to sling some last-minute mud at Democratic contender Stacey Abrams.
On Wednesday, Mother Jones obtained a copy of a mailer circulated by Kemp's team that seems intended to play to some of voters' most base anxieties — gangs, sex trafficking and a disrespect for law enforcement being chief among them.
On the flip side of the mailer — alongside a large photo of Abrams labeled "TOO EXTREME FOR GEORGIA" — the divisive political rhetoric slips into outright falsehood. Kemp's team claims on the mailer that the Democrat would "allow illegal immigrants to vote" if elected.
The claim seems to stem from a vote made during Abrams' tenure in the Georgia House of Representatives, when she moved to strike down a so-called "proof of citizenship" law being proposed in 2009. Although the law in question was eventually passed in Georgia and two other states, a federal appeals court blocked its implementation in 2016 on the grounds it would require some, but not all, U.S. registrants to provide proof of citizenship.
Georgia's voting laws have historically been a hot-button issue, and the 2018 midterms have only served to ramp up tensions. In August, a thwarted plan to close seven out of nine polling locations in one rural, majority-black county in the state sparked national concern. Many saw the move as an attempt to disenfranchise black voters.
During his time as Georgia's secretary of state, Kemp has served as something of a bannerman for what's known as "voter suppression." He even earned himself an op-ed in the New York Times that labeled him an "enemy of democracy" for his repeated attempts to block thousands of voters from Georgia's rolls.
As is the case in several other close midterm contests taking place around the country, including the gubernatorial race currently playing out in nearby Florida, the Abrams-Kemp matchup is a battle between a member of an emerging class of progressives and a President Donald Trump-endorsed Republican.
According to the latest poll numbers, Kemp and Abrams are in a dead heat in the race to become the next governor of Georgia. If elected, Abrams would be the first black woman governor in U.S. history.