A food hall, run only by women of color and immigrants, is challenging the "boys' club" of kitchens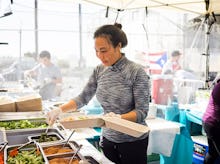 For many female chefs of color, inclusivity in the restaurant industry remains a glaring issue. "Even now, some people don't know I'm the chef here. They're looking for a man, or they're looking for someone else. They're not looking for someone who looks like me," Mashama Bailey, the first African-American woman nominated for best chef at the James Beard Awards, previously told Mic. And a 2015 study by Restaurant Opportunities Centers United found that women of color earn $4 less than white men in restaurants in California — despite making up the highest percentage of both front-of-house and back-of- workers (and earning the lowest wages in both categories.)
But one nonprofit group wants to tackle this problem of inequality in the industry by creating San Francisco's first food hall run only by women of color and immigrants. Ultimately, the goal is to provide those without enough resources with a chance to create their own restaurant space.
The food hall, named the La Cocina Municipal Marketplace, will occupy a long-abandoned, 7,000-square-foot post office in San Francisco and serve as a space for seven female chefs and bakers. The $5 million project is being partially funded by the city of San Francisco and is expected to open in spring 2019. The idea was proposed by nonprofit group La Cocina, which is an incubator for low-income entrepreneurs in the food space. According to Leticia Landa, La Cocina's deputy director, the goal of the Municipal Marketplace will be to help aspiring female restaurant owners struggling with one of the largest problems in San Francisco: the rising price of real estate.
"Some landlords are incredible and generous and are excited to work with a food business that has years of experience and proven sales — but a lot of other landlords don't care and just want a high rent number," Landa said over the phone. "We realized if we could be the landlord, build out the space and create the space, then we would be able to provide these small businesses with the ability to make real money."
From January through June 2018, the average price for a home in San Francisco rose nearly $205,000, which Fortune called "the highest six-month gain in at least a quarter century." And Landa attributed this rise to the influx of tech businesses and employees who work for them. "There are so many new businesses that moved to San Francisco that provide really high-paying jobs for a very particular type of person — and those people are very rarely people of color and very rarely native San Franciscans," she said. "Those forces are at odds, in terms of trying to create a city with equitable opportunities for all of its citizens."
The hall's location in the Tenderloin area of San Francisco is by design, Landa said. The area remains one of the last areas still holding off gentrification, despite being bordered by wealthier neighborhoods. It is also an area with much drug activity and, in the past, has struggled to attract businesses. According to Landa, the hall aims to serve the local community, mostly made up of people of color and many with children. (The cost of food items have yet to be determined.)
Since 2005, La Cocina has helped launch at least 28 different cafes, restaurants, bakeries and catering services for people of color and immigrants, including Reem's California, an Arab bakery run by James Beard Award semifinalist Reem Assil. La Cocina also helped launch Nyum Bai, a Cambodian restaurant owned by Nite Yun, whose restaurant has received national acclaim.
But according to Landa, despite a growing number of women-owned restaurants, there's still a lot more to be accomplished. "Women, people of color and immigrants have been historically disinvested in and disenfranchised and not allowed opportunities," she said. "Talent exists everywhere. It's just opportunity that's unfairly distributed, and in this country, [because] of race."