The iPhone XS smooths your skin in selfies. Here's how to snap a more natural-looking photo.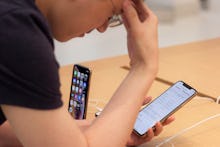 Users of Apple's new phone, the iPhone XS, have accused the device of overly smoothing subject's skin on photos taken with the front-facing camera. The skin-smoothing mode can't be switched off.
This was first noted on Reddit, with photo evidence from Reddit user Chemicalsam who compared how his skin looked on 2017's iPhone X versus the new iPhone XS. The resulting photo was a warmer image and contained fewer blemishes. Lewis Hilsenteger, host of Unbox Therapy on YouTube, saw similar results when testing Apple's new phones against its older ones.
A comparison of the iPhone X and XS phones on Apple's site shows both devices have the same seven megapixel front-facing camera built-in. Business Insider notes that Apple mentioned during their iPhone announcement event that the new A12 Bionic processor allows for additional noise reduction in selfie photos. The results of this could be overly-smoothed skin.
You can use Apple's iPhone XS camera to take selfies without skin-smoothing, but it isn't easy
If you prefer to not have selfies with airbrushing, you do have another option. While the new phone's front-facing camera smooths out your skin, the rear camera takes shots that appear more realistic. So turn the phone around and take your selfie the old-fashioned way.
Doing this can be hard, but there are ways to make it easier. When using Apple's camera app, either volume button can be used as a shutter button to take the picture. The all-glass back of the iPhone XS isn't a better viewfinder than the phone's screen, but it gives you a rough estimate of how the photo will look. While your photos will appear more accurate, you won't frame anything properly without a bit of trial and error.
This is the latest development in a long line of photo filter controversies
Apple isn't the first camera app maker to encounter photo filter troubles. Snapchat filters have caused contention with users for assigning users Eurocentric features, as well as filters that force digital blackface through a Bob Marley filter. In Apple's case, however, the phone makes no mention of the skin-smoothing mode and doesn't offer users an option to turn it off.
Samsung phone owners encountered a similar situation in 2016, where the phone smoothed out freckles and made people's faces slimmer in self-shots.
According to 9to5Mac, photographer Abdul Dremali reached out to Apple about the issue. The company responded saying they are working on a fix.
Sept 28, 2018 4:30 p.m. ET: This story has been updated