Movement Must-Reads: The Brett Kavanaugh debacle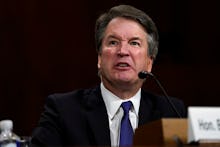 A note before we get started, this will be my final entry as writer of the Movement newsletter.
We're still figuring out who will take over, but please know that it's been a pleasure writing for all of you.
Keep an eye out for what comes next!
Thanks,
— Zak Cheney-Rice, editor, The Movement
From Mic:
Natelegé Whaley on the re-creation of an iconic 1,600-signature ad taken out in the New York Times in 1991 by black women supporting Anita Hill — except this edition features all male signees in support of Christine Blasey Ford, who accused Supreme Court nominee Brett Kavanaugh of sexual assault.
Natelegé also has a report on the dozens of demonstrators arrested protesting Kavanaugh's nomination Thursday in Washington, D.C.
Michael Arceneaux on the Bill Cosby verdict and sentencing.
And Chauncey Alcorn on the firing of former Dallas police Officer Amber Guyger, who killed Bothem Shem Jean — an unarmed black man — in his own apartment Sept. 6 after allegedly mistaking it for her own.
Chauncey also has pieces on the bizarre post-sentencing rant of Cosby publicist Andrew Wyatt, who compared his client to Jesus and claimed he was the victim of a "sex war"; and Colin Kaepernick compatriot Eric Reid's new deal with the Carolina Panthers, after months of allegedly being blacklisted by the NFL for his activism.
From elsewhere:
Kimberlé Crenshaw's New York Times op-ed about the lessons America has failed to learn from Anita Hill's 1991 testimony against Clarence Thomas.
Lili Loofbourow at Slate on Brett Kavanaugh and the cruelty of male bonding rituals.
And Doreen St. Félix's New Yorker piece about the patriarchal resentment on display during Kavanaugh's testimony Thursday.
That's all for now. And thank you, as always, for reading.