"November is coming": Democrats warn Republicans of consequences for Kavanaugh confirmation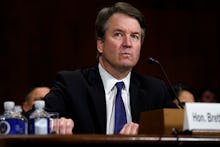 "November is coming!" protesters chanted in the hallway of a Senate office building Friday morning, issuing a warning to Republicans as the GOP-controlled Senate Judiciary Committee moved to vote on Brett Kavanaugh's nomination to the Supreme Court.
Whether Republicans' choice to confirm Kavanaugh — despite allegations of sexual assault and his angry outbursts and partisan threats he made during Thursday's hearing — will actually impact Republican fortunes in November is an open question. But political analysts are watching to see if the hearings further juice already heightened enthusiasm among Democratic.
"Democratic enthusiasm and motivation is going to be off the chart," Stu Rothenberg, a nonpartisan political analyst, said in an interview. "People are saying it's already been high; that's true. But it could be higher, particularly among swing women voters in the suburbs and younger voters, 18- to 29-year-olds, who while they don't like the president, often don't vote."
Rothenberg also said he believes confirming Kavanaugh could have a negative impact on Republican voter enthusiasm.
"A month from now, the perception will be the Republicans control the House, the Senate, the White House and the Supreme Court," Rothenberg said. "Republicans will feel like they have won, and that kind of mood and environment tends to make those voters content, feeling like the fight is over, we won. So I don't think that Republican enthusiasm will match Democratic enthusiasm following this confirmation."
House Democrats, who are hoping to take control of the chamber in the midterms, say the Kavanaugh hearings are motivating women and millennial voters.
"Dr. Christine Ford's testimony was credible, powerful and all too familiar for women and men all across the country who have been sexually assaulted, and Kavanaugh's demeaning and bullying behavior only worsened the situation for Republicans," Meredith Kelly, a spokeswoman for the Democratic Congressional Campaign Committee, said in a statement to Mic. "Voters have been rightfully glued to this hearing, and women and millennials in particular will be further enraged and motivated by the state of the Republican party in the final stretch of the midterms."
Rick Wilson, a Republican strategist who has built a national profile in opposing President Donald Trump, thinks the Kavanaugh nomination debacle will only have a "marginal" outcome in 2018.
"I say that only because Democratic voter intensity was already so high that it's hard to ratchet it up higher than it is now," Wilson said, a position held by other GOP strategist and pollsters.
But Wilson said he's shocked by the number of women who have told him in recent days that they too have been sexually assaulted, and that the effects of the hearings could surprise political strategists.
"In the last couple of days [women] have texted, emailed me or called me and said, 'It happened to me too,'" he said. "And I think that may have a knock-on effect that we haven't calculated yet, and I don't know what it's going to be."
Ultimately, however, the Kavanaugh hearings are unlikely to change Republican fortunes in their favor, the way GOP leaders were predicting when the Supreme Court vacancy was in its infancy back in June when Anthony Kennedy announced his retirement.
Republicans remain the underdogs in their quest to maintain House control, and are favorites — but not overwhelmingly so — to hold on to the Senate.
"I think the House is pretty much done," Rothenberg said, referring to Republicans being swept out in a wave in November. "But it could add to the size of the wave."
Friday Sept. 28, 2018 1:21 p.m.: This article has been updated.