What Melania Trump wore her 88th week at first lady — including to visit the UN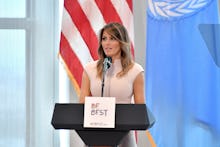 While all eyes were on Washington D.C., for Supreme Court nominee Brett Kavanaugh's heated confirmation hearings, the first couple spent much of the week in New York, attending events as part of the United Nations General Assembly.
First lady Melania Trump made multiple public appearances at U.N. events this week, even speaking at a reception for spouses of world leaders on Wednesday.
But enough about the U.N., let's talk about Trump's fashion choices — what did she wear?
Tuesday, Sept. 25: Belted Dior to watch her husband's speech
On Tuesday, President Donald Trump addressed the U.N., (his speech, which was not intended to be funny, inspired some chuckles from the assembled world leaders). Melania Trump wore what appeared to be a custom-made black Christian Dior collared shirt dress paired with a black Dior belt and matching black stilettos.
Her all-black outfit sparked speculation that Trump was "trolling" her husband by joining a campaign to wear black on Tuesday as a show of support for survivors of sexual assault, inspired by Christine Blasey Ford's allegations that Kavanaugh assaulted her in the '80s.
But, as is often the case with Trump's clothing choices, it's hard to tell if there was any hidden meaning to the outfit.
Later that day, Trump appeared in a different, black "tux dress" custom-made for her from one of her favorite designers, Hervé Pierre (the designer behind her inauguration gown). She has worn the dress before, including on a 2017 trip to Tokyo.
Pierre Instagrammed the outfit on Wednesday, writing, "A 'tux dress' in grain de poudre and black duchess for a dress specially designed for the first lady ... Nothing better than a good black dress ! It is a big honor to dress the first lady ... thank you madame."
Wednesday, Sept. 26: A cap sleeve dress to a U.N. reception
On Wednesday, Trump spoke at a reception at the U.S. mission to the United Nations, before the spouses of various world leaders, announcing her plans to travel to Ghana, Malawi, Kenya and Egypt as part of her trip to Africa next week. The first lady wore a pale, knit, cap sleeve dress by Scanlan Theodore (it retails for $600).
In her speech, Trump plugged her "Be Best" initiative and told the crowd, "Each of us hails from a country with its own unique challenges, but I know in my heart we are united by our commitment to raising the next generation to be happy, healthy and morally responsible adults." Here's hoping.
You can read previous recaps of what Melania Trump wore here.