GOP megadonor who called Obama a "Muslim nigger" also gave money to New York Rep. Claudia Tenney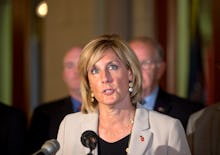 Steven Alembik, the Republican megadonor who was recently exposed for calling former President Barack Obama a "fucking Muslim nigger" on Twitter, has made campaign contributions to embattled New York Rep. Claudia Tenney, Federal Election Commission filings show.
According to the records, Tenney has received a total of $5,400 from Alembik since June 2017, paid out to her campaign in two installments of $2,700 each.
Other conservatives in competitive races have also accepted money from Alembik in recent months, including Florida GOP gubernatorial nominee Ron DeSantis and outgoing Florida governor and current Senate candidate Rick Scott. But the GOP donor's public and vile comments have caused both men to return or donate most of the money from him in an attempt to distance themselves from the Trump-supporting Alembik.
"We've said it before, we'll say it again: We adamantly denounce this sort of disgusting rhetoric," a spokesperson from DeSantis' campaign told Politico in the wake of reports on Alembik's initial Twitter comments.
But so far at least, Tenney has given no indication she's ready to follow suit.
A former attorney who represents upstate New York's 22nd Congressional District, Tenney has been vocal in her support of President Donald Trump — and has even mimicked his divisive rhetoric at points throughout her campaign.
On Sept. 18, the New York Post reported on a leaked memo being circulated among Tenney's staffers that referred to the family of her opponent, Democratic New York State Assembly Member Anthony Brindisi — who is of Italian descent — as "criminal" and "thuggish."
"Brindisi's family has used their political connections to get away with violence, intimidation and thuggish behavior for years," the memo said. "As the Brindisi family watches Anthony's political career end, they may return to what they know — violence and intimidation."
Brindisi's campaign responded to this by saying that "these kinds of blatant and false attacks on Italians are nothing new for Claudia Tenney."
According to the nonpartisan Cook Political Report, the contest between Brindisi and Tenney is currently a toss-up.
This isn't the first time Tenney's campaign has landed itself in hot water. In February, the congresswoman sparked national outrage after she seemingly defended accused domestic abuser and former White House aide Rob Porter.
"I'm not saying he's innocent, but I'm saying we don't know," Tenney said in interview with Utica's WUTQ. "He could be the worst guy in the world, but now we're getting into prosecution as far as I know. I guess there was an issue about, maybe the FBI knew about it, but really, is this what we're talking about at this point?"
Earlier the same month, Tenney also raised eyebrows when she falsely suggested to an Albany-area radio host that mass shooters were more likely to "end up being Democrats."
"Yeah, well, obviously there is a lot of politics in it, and it's interesting that so many of these people that commit the mass murders end up being Democrats, but the media doesn't talk about that either," she said.