This Week in Food and Travel: A "Yelp for noise" will help you find the quietest bars around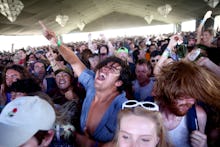 A report of over 2,000 venues in New York City found that the sound levels at restaurants and bars range between 78 and 81 decibels on average, roughly the equivalent of a passing freight train. And exposure to all that sound for hours on end could mean actual hearing loss. Luckily, there's an app to help us sort through all the noise — and find our quiet place.
In other news, Mic explored how using cloth napkins and eco-friendly toiletries could help you on your quest to a zero-waste trip, examined the supposed skin and joint benefits of collagen-based vitamins and took a look why kid meals in California will never be the same.
Because sometimes you just want to have a quiet conversation over drinks.
Guests will refuse, recycle, reuse, upcycle and compost over 99% of their waste on this trip to Yellowstone National Park in 2019.
Celebs are touting the benefits of the buzzy wellness trend, but skin experts aren't so sure.
In the United States, nearly 1 in every 5 kids ages 6 to 19 has obesity — but a new bill in California may change that.